GISEA Manual - Improving the Evidence Base in SEA
Summary: The aim of this manual is to provide a useful guide on how Geographic Information Systems can be used to enhance environmental assessments being carried out.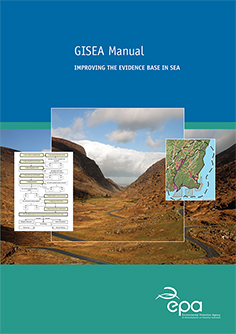 Published: 2017
Pages: 56
Filesize: 4,425 KB
Format: pdf
This manual is intended to be a guidance document for the application of Geographic Information Systems as a tool to enhance the evidence base in environmental assessment.
It provides recommendations for the application of GIS to support Strategic Environmental Assessment (SEA) Directive. It may also be relevant in the context of Appropriate Assessment (AA) under the Habitats Directive. The primary focus is however, on the SEA process.
The SEA related legislative instruments have been transposed in Ireland through the Irish SEA Regulations (Statutory Instruments No. 435 of 2004 and 436 of 2004, and 200 and 201 of 2011) and the Planning and Development Act 2000. The manual also draws upon the requirements for spatial information established in the INSPIRE Directive.

Although it applies to land-use planning in particular, the recommendations and GIS applications are also transferable to other plans, programmes and assessments, such as those related to the Water Framework Directive and the Floods Directive. They are equally transferable to offshore SEAs and to Environmental Impact Assessments (EIAs).
In all cases, the recommendations are not intended as an interpretation of the law and the manual does not represent a legally binding document.
https://www.epa.ie/media/epa-2020/monitoring-amp-assessment/assessment/GISEA.jpg