Research 290: Environmental Policy Integration: Innovation and Change
Authors: Brendan Flynn and Pádraic Ó hUiginn
Summary: The EPIIC (Environmental Policy Integration: Innovation and Change) project explored the relevance of environmental policy integration (EPI) for Irish environmental governance. EPI involves bringing environmental concerns into all other policy sectors, notably into agriculture, energy and transport.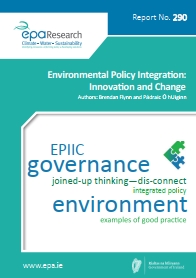 Published: 2019
ISBN: 978-1-84095-855-3
Pages: 34
Filesize: 2,994 KB
Format: pdf
Identifying pressures
This research was initially designed prior to Brexit, COP21 and national developments such as the Citizens' Assembly's deliberations on climate change and the Oireachtas Joint Committee on Climate
Action and its subsequent report.
The research questions posed were "How 'joined up' is Irish environmental governance" and "What remedies could be undertaken to improve integration?".
This report provides a detailed history of the EPI concept. An Irish EPI success story is recounted, which combined energy conservation, energy poverty and health. A contrast is made with slow Irish progress on anaerobic digestion (AD), with EPI absent in this case. Both examples are framed within a wider discussion of environmental policymaking in an era of disruption.
The findings from this research suggest that awareness of the EPI concept was quite limited and that there is a need to engage with ordinary citizens to make EPI accessible. Interviewees were adamant that the "silo mentality" was a genuine problem, including the phenomenon of "silos within silos". The local government level is where the lack of integration is most acute, especially with regard to planning. There are, however, EPI "policy champions" nestled in specialist agencies (e.g. the Sustainable Energy Authority of Ireland, Teagasc, the City of Dublin Energy Management Agency). Private sector actors can also drive EPI, notably larger multinational firms but also not-for-profit non-governmental organisations.
Interviewees expressed strong views on a lack of environmental data sharing, on the suitability of voluntary agreements that aim to go beyond compliance and on the importance of subsidies, specifically feed-in-tariffs, for new renewable technologies such as AD or biogas. Policy instruments that engaged the public and brought the citizen "back in" to policy delivery were also advocated.
Informing Policy
This research examined Irish environmental governance independently of those domestic factors, and in its current state, to identify where there may be so-called disconnects and to find examples of integration and joined-up thinking. It offers the policymakers' equivalent of a "Rough Guide" or "Lonely Planet" travel guide of "must see" and "best to avoid" places, to those tasked with identifying areas of pressure, and also areas of opportunity in Ireland's system of environmental policy governance.
Developing solutions
This research identified several concrete recommendations to enhance EPI in an Irish setting. These include better communication of EPI and possible rebranding of the concept, as part of a wider participatory dialogue. The findings suggest a need for institutional change, adaptation and evolution. A dedicated "network agent" needs to be established to broker formal policy networking. This could be either a new bespoke body or a modified formation of the National Economic and Social Council. This network agent should ideally report to the Department of An Taoiseach to maximise the potential co-ordination role. A Green Bridging Fund (or similar) is recommended of not less than €1m per annum. The diagonal axis of EPI, where state expert agencies – "bridging agents" (e.g. the Sustainable Energy Authority of Ireland, Teagasc, the Marine Institute, the Heritage Council, the Office of Public Works) – predominate, should be availed of more often, in a co-ordinated and collaborative fashion, drawing on existing resources. A further reinforcement of that axis of EPI, with an increase in budgetary resources and personnel in that sector, is also recommended. Furthermore, the National Transport Authority and the Regional Waste Management Offices need priority support so that they can better play a role as "bridging agents". The Irish local planning system needs a substantive shift in "organisational culture". Ideas from "green infrastructure" and the "transitions towns movement" could be usefully embraced, as they promote integration. A new cadre of
Directors for Green Infrastructure Services should be appointed.
There is an urgent need for a review of all environmental data held by public agencies, to be facilitated by a dedicated environmental data analytics team. Feed-in tariff (FIT) supports such as renewable energy feed-in tariffs like REFIT, although expensive, are worth keeping for emergent technologies such as AD and biogas, as long as they follow international best practices in their design. There is a need to explore "soft bridging instruments". These could be "citizen science" projects but also carbon-neutral certification and labelling schemes.
Finally, Irish environmental policy lesson drawing should be global in its orientation and multilateral, rather than confined to always drawing lessons from the typical comparators (i.e. the UK) or situated within the most ubiquitous institutional fora (typically the European Union).
https://www.epa.ie/media/archive/research/research-thumbnails/Research_290_thumbnail.jpg