The Quality of Bathing Water in Ireland 2009
Summary: The monitoring of water quality at the 131 designated bathing areas in 2009 was governed by the Quality of Bathing Waters Regulations, 1992 (S.I 155 of 1992) and amendments, which transposed the EU Directive 76/160/EEC. The purpose is to ensure that bathing water quality is maintained and if necessary improved so that it complies with specified standards designated to protect health and the environment.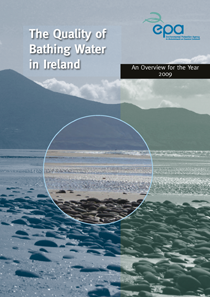 Published: 2012
Pages: 14
Filesize: 1,289 KB
Format: pdf
In 2009, the quality of Ireland's bathing waters remains high with 93 per cent of bathing areas (122 of 131 areas) complying with the minimum EU mandatory values and achieving sufficient water quality status. From 2008 to 2009, the proportion of bathing areas of sufficient water quality remained unchanged.
In 2009, 82 per cent of bathing areas (108 of 131 areas) also complied with the stricter EU guide values and achieved good water quality status. From 2008 to 2009 the proportion of bathing areas of good water quality increased by 4 per cent.
While the overall level of bathing water quality remains acceptable, a small number of bathing areas are consistently classified as poor. Adequate measures including the provision of appropriate waste water treatment facilities are required if these bathing areas are to comply with EU standards. Furthermore, given the higher rainfall in recent summers, measures need to be taken to minimise its effects on bathing waters.
More information can be found on the EPA Splash website (www.bathingwater.ie).
https://www.epa.ie/media/epa-2020/monitoring-amp-assessment/freshwater-amp-marine/2009BathingWaterEng_thumb.png