Water Quality in Ireland 2016 – 2021
Summary: This report sets out the latest assessment of the health of Ireland's rivers, lakes, canals, groundwaters, transitional (estuaries) and coastal waters. The analysis is based on the assessment of over 4,000 surface water bodies and 514 groundwater bodies over the period 2016-2021.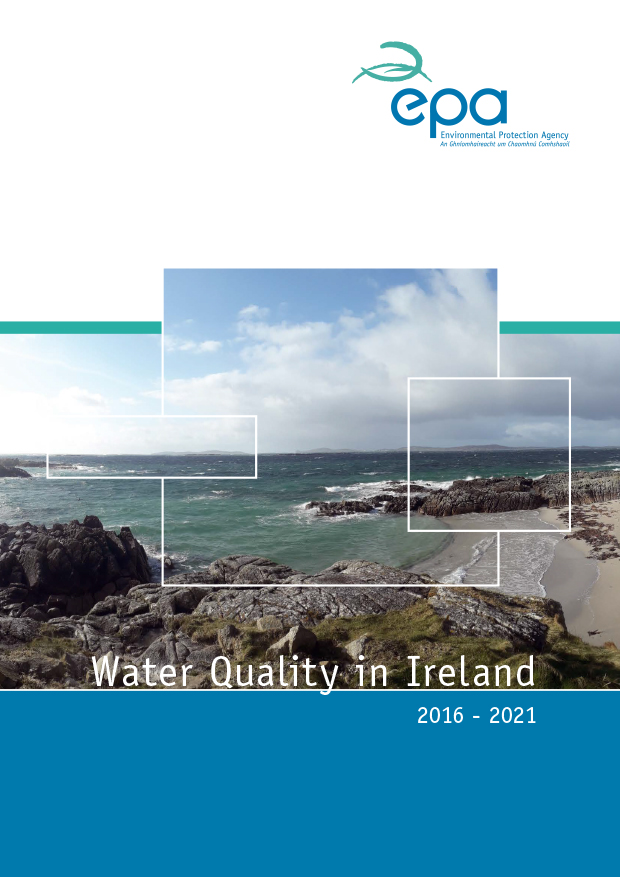 Published: 2022
ISBN: 978-1-80009-073-6
Pages: 112
Filesize: 17,911 KB
Format: pdf
This assessment shows that over half (54%) of our surface waters are in good or better ecological status which means that nearly half (46%) are in unsatisfactory condition. 91% of groundwaters are in good status. Overall, our water quality is declining and the number of monitored water bodies in satisfactory condition has decreased since the last assessment. There is a relatively small decline in water quality of our rivers and lakes. The number of estuaries and coastal water bodies in satisfactory condition has decreased by almost 16% and 10% respectively. There has also been a slight decline (0.8%) in the quality of our groundwaters with more groundwater bodies now in poor condition.
Concentrations of these nutrients are far too high in many of our water bodies. 43% of river sites, mostly in the south and southeast of the country, have high nitrate concentrations while nearly a third of river sites (30%) and a third of lakes (33%) have elevated phosphorus concentrations. Phosphorus levels are particularly high in lakes in the northeast of the country.
Agriculture is the most prevalent significant pressure causing water quality impacts.
Improvements within the Priority Areas for Action exceeded improvements outside these areas. This indicates that when targeted action is taken, improvements in water quality can be achieved.
The summary report can be found here.
https://www.epa.ie/media/epa-2020/publications/monitoring-amp-assessment/freshwater-amp-marine/EPA_WaterQualityReport2016_2021_Cover.jpg