Research 188: Integrating Ecosystem Approaches, Green Infrastructure and Spatial Planning
Authors: Mark Scott, Mick Lennon, Marcus Collier, Karen Foley
Summary: Research report 188 on Integrating Ecosystem Approaches, Green Infrastructure and Spatial Planning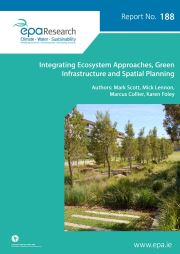 Published: 2016
ISBN: 978-1-84095-666-5
Pages: 106
Filesize: 2,485 KB
Format: pdf
Identifying Pressures
Pressures placed on the planet by human activities pose some of the most complex and demanding challenges facing societies and policy-makers across the globe. Observed increases in storm intensity and the challenges faced in adapting to climate change and seeking to preserve the quality of our environment while advancing socio-economic development illustrates that Ireland too is subject to such global pressures and thereby shares in the responsibility to address them. In recent years, the Irish planning system has been reshaped in response to the challenges posed by these issues. There now exists enormous pressure on planners and allied professionals to respond to such pressing issues when formulating land use plans.
Informing Policy
This report outlines how the 'green infrastructure' (GI) concept can help planners and allied professionals respond to the challenges posed by these pressures when formulating spatial plans. The GI concept addresses multiple issues in an environmentally sensitive manner by promoting spatial connectivity and multifunctionality. This report outlines how employing the GI concept enables those working within the planning system to meet a diverse array of complicated objectives that often seem to conflict. It describes how this can be achieved by simply enhancing certain existing work practices to better facilitate a more context sensitive form of planning that supplies a range of mutually reinforcing social, economic and environmental benefits.
Developing Solutions
This report seeks to assist planners and allied professionals involved in the formulation of spatial plans by providing a knowledge base and guidance for integrating the GI concept into spatial planning practice. It forms part of a suite of GI-related resources produced and collated in this project. In particular, it provides the evidence base for, and accompanies a 'How To Guide' (EPA Research Report 182), which describes an interactive workshop that fosters novel perspectives on spatial policy formulation and new collaborative working arrangements between a range professionals.

The materials and instructions for running this workshop are available from www.ecoplanresearch.org and http://erc.epa.ie/safer
This report accompanies EPA Research Report 182 A 'How To' Guide for Disseminating and Integrating the Concept into Spatial Planning
https://www.epa.ie/media/epa-2020/publications/research/Research-188-Ecosystems-approach-thumbnail.jpg