Research 381: An Irish Nutrient Platform to Underpin Sustainable Development
Authors: Vincent O'Flaherty, John McGrath, Dermot Hughes, Juan Castilla Archilla, Jose Antonio Pícon, Andrew Bartle, Therese Mahony, Katrina Macintosh and Etain Doherty
Summary: The UN Agenda for Sustainable Development consists of 17 Sustainable Development Goals (SDGs), underpinned by 169 targets, which aim to "end poverty, protect the planet and ensure prosperity for all". These SDGs are expected to frame national policy agendas over the next 15 years in the context of both domestic and international policy, with an overarching desire to link environmental sustainability to sustainable economic development and the recognition that the management and protection of the environment are vital to economic wellbeing and a healthy society.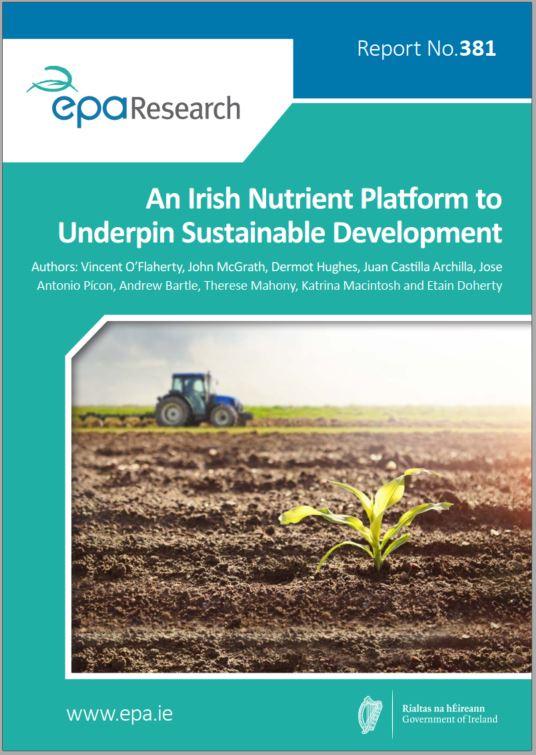 Published: 2021
ISBN: 978-1-80009-002-6
Pages: 65
Filesize: 2,440 KB
Format: pdf
Identifying Pressures
At an all-island level, the agri-food sector is integral to Ireland's economy: intensification of this industry, in line with current national policies such as Food Harvest 2020 (Ireland) and Going for Growth (Northern Ireland), is essential to increase Irish economic prosperity. Yet a major challenge for this sector, both locally and globally, is to address the SDG targets while sustaining agricultural output to help feed a growing global population.
In the coming decades, the intensification of the Irish agri-food system will present the industry, and wider society, with the dual challenges of (1) elevated production, treatment and sustainable management of waste, and (2) increased competition for scarce natural nutrient resources. To this end, a transition towards sustainable primary production and processing systems that can produce more food – and other bio-based products – while meeting those UN SDG targets that mandate fewer inputs, less environmental impact, waste recycling and reduced greenhouse gas emissions is an imperative.
Informing Policy
The Irish Nutrient Sustainability Platform is a stakeholder-led initiative, which seeks to bring together a wide range of stakeholder members spanning the nutrient value chain. The platform seeks to align with the delivery of national and regional policy through established links with governmental bodies, as well as collaborations relating to the National Policy Statement on the Bioeconomy/Sustainable Development Goals Agenda in relation to nutrients.
Developing Solutions
The Irish Nutrient Sustainability Platform seeks to provide a "safe space" for stakeholders and regulators to interact and discuss policy, challenges, solutions and technological innovations openly with a view to gaining consensus on how the challenges of nutrient sustainability can be addressed. The platform encourages cooperation at all levels of the nutrient value chain through networking and knowledge exchange opportunities such as workshops, panel discussions, and webinars featuring international speakers and contributors.
https://www.epa.ie/media/epa-2020/research/epa-funded-research/Report_Cover_381.jpg