Research 221: 21st Century Deforestation in Ireland
Authors: John Devaney, John Redmond, Brian Barrett, Grace Cott and John O'Halloran
Summary: Research 221 on 21st Century Deforestation in Ireland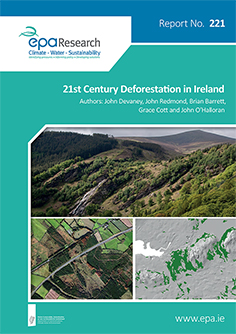 Published: 2017
ISBN: 978-1-84095-730-3
Pages: 52
Filesize: 4,307 KB
Format: pdf
Identifying pressures
As a result of extensive afforestation, Ireland's forest carbon makes a substantial contribution to national greenhouse gas (GHG) reduction targets. Deforestation (i.e. the permanent change of forest to non-forest land-use) could have a significant impact on GHG emissions in Ireland's National Inventory Report to the United Nations Framework Convention on Climate Change (UNFCCC). Large uncertainties are associated with current estimates of national deforestation. Consequently, a spatially explicit quantification of the extent and character of contemporary deforestation in Ireland is required to assess the validity of existing and potential future deforestation estimation methodologies.
Informing policy
This study provides the first national map of contemporary deforestation events in Ireland. The study reports that National Forest Inventory reporting is currently the most accurate source of deforestation estimation in Ireland. However, to improve accuracy, a national-scale photointerpretation of deforestation areas could be repeated on a cyclical basis using updated national imagery datasets. A preliminary study of the potential application of Synthetic Aperture Radar satellite data (SAR) to forest monitoring in Ireland indicated that radar remote sensing, used in combination with photointerpretation and ground survey, offers a valuable tool for future forest change accounting in Ireland. A high rate of deforestation of privately owned broadleaf forests is also reported. These findings will inform future policy decisions on GHG accounting and the long term protection of Irish forests.
Developing solutions
This research provides evidence-based recommendations for the development of forest related land-use change accounting methodologies in Ireland. The work outlined here will reduce uncertainties in GHG emissions reporting and contribute to the development of national landuse/land cover change mapping.
https://www.epa.ie/media/epa-2020/publications/research/EPA-RR-221_cov_20mm[1].jpg