Sustainable Environment Research in Ireland
Summary: A review of EPA research funding in the Sustainable Environment area.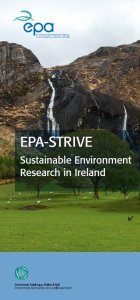 Published: 2012
Pages: 6
Filesize: 707 KB
Format: pdf
Sustainable Environment is focused on ensuring that the natural resources and environmental conditions that are fundamental to the economic and social well-being of Ireland's future generations are protected and are not degraded or exhausted. Drivers in this area include a number of national and EU/ international strategies in the broad area of sustainable development and also in specific areas where environmental concerns are integrated within policies which impact on the environment. The specific focus areas of the Sustainable Environment pillar are:
Environment & Human Health
Waste & Resource Management
Impacts on Biodiversity
Soils and Land-use
Socio-economic Considerations
Between 2007-2012, the EPA STRIVE Programme has funded 140 Research Projects (with budget > €10,000) related to Sustainable Environment with a total commitment from the EPA of approx. €27m. The range of projects funded include desk-studies, scholarships, fellowships and large-scale multi-annual and multi-partner awards.
https://www.epa.ie/media/epa-2020/publications/research/STRIVE_SusEnv_cover_thumb[1].jpg