Research 245: Designing Interventions for Sustainable Behaviour Change in Business and Communities
Author: Simon O'Rafferty
Summary: Sustainable consumption and production demands behaviour changes. Policymakers and regulators already apply a range of interventions and incentives with a view to changing individual and organisational behaviour. This includes fiscal incentives, subsidies, pricing mechanisms and market-based instruments, standards, eco-labels and communication, business support programmes and curriculum development.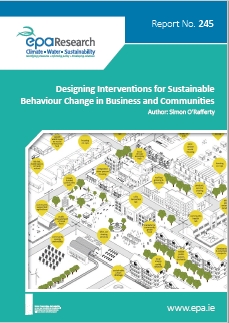 Published: 2018
ISBN: 978-1-84095-771-6
Pages: 71
Filesize: 2,722 KB
Format: pdf
Identify Pressures
These interventions have had varying degrees of success, and some have been ineffective or, worse, counter-productive. There is a growing interest among governments in applying innovative practices when developing policies, regulations and services. This includes using design thinking, behavioural insights, foresight and data science. The potential to fully combine insights into human and organisational behaviour with environmental policy ambitions has not yet been realised.
This research project sought to explore the potential for applying these approaches in Ireland and more specifically within the EPA. The research focused on opportunities to enhance existing EPA support services for businesses and possible future interventions for sustainable communities. In addition to desk research, surveys, semi-structured contextual interviews and participant observation, the project undertook ethnographic research with businesses and community initiatives that combined descriptive fieldwork with theory building.
Informing Policy
From the perspective of sustainable communities, the research highlighted policy and practical barriers to developing sustainable communities in Ireland. These include a lack of a common policy and evaluation framework, a low sense of agency and empowerment in communities, and fragmented support networks, leading to scale and diffusion challenges. The research highlighted a number of behavioural insights that can inform intervention design, such as the role of social networks and social norms, removing frictions and hassle factors, reciprocation and public commitments.
From the business perspective, the research highlighted key structural factors impacting on the delivery of interventions and business support services for resource efficiency in Ireland. These include the structure of the existing business support network, the reliance by small and medium-sized enterprises on their own or private sector support, which may be sub-optimal, resistance to moving beyond "low-hanging fruit" actions to achieve resource efficiency and impacts of interventions going unmeasured or misattributed as a result of time elapsed between intervention and investment. The research also highlighted several behavioural factors to consider in intervention design, such as norms and peer influence, and various forms of decision-making, e.g. groupthink, heuristics and satisficing.
Developing Solutions
Building on the insights gained from the research, the project developed a series of business support service prototypes. Service prototypes are early-stage propositions on how services can be delivered. Typically, prototypes can be examined, tested and refined before any significant investment is made. Prototypes go beyond policy or service recommendations, as they provide form and structure to recommendations and allow for an examination of the desirability feasibility and viability of these.
The research also developed a novel "behavioural design tool" that can support the design of future support services for businesses. This tool is built around an understanding of the internal, external and decision-making factors that will influence the effectiveness of interventions.
https://www.epa.ie/media/epa-2020/publications/research/Research_245_thumnail[1].jpg