A Nationwide Review of Pay-By-Use (PBU) Domestic Waste Collection Charges in Ireland
Case Study Report for the ERTDI-funded project: 2005-WRM-MS-33
Summary: STRIVE Report 9 - Abigail O'Callaghan-Platt and Anna Davies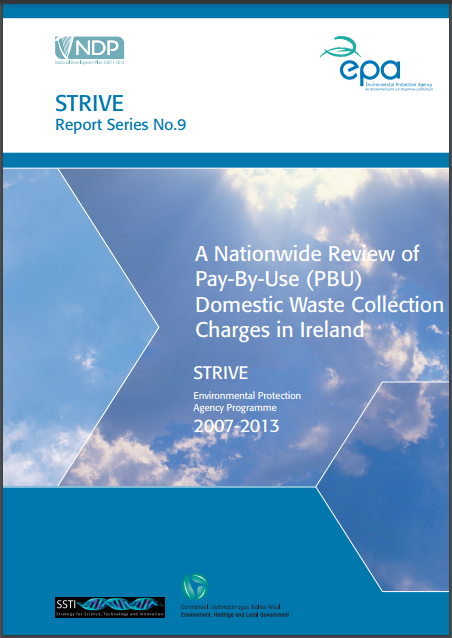 Published: 2008
ISBN: 978-1-84095-293-3
Pages: 67
Filesize: 2,405 KB
Format: pdf
From 2006 to 2008 this study, 'A Nationwide Review of Pay-By-Use (PBU) Domestic Waste Collection Charges in Ireland', investigated the implementation of PBU domestic waste charges in Ireland in order to discern their impact on domestic waste-management activities such as waste presentation, waste recycling and illegal waste diversion.
The research was conducted through two phases:
Stage 1: a nationwide local authority survey, from May to September 2006, and
Stage 2: a case study stage, from August to December 2007.
This report outlines the findings of the case study stage and follows on from the interim report, which reported the findings of the nationwide survey.
Also available for download: