Examining the Use of Food Waste Disposers
Final Report for the ERTDI-funded project: 2005-WRM-DS-23
Summary: STRIVE Report 11 - Carmel Carey et al.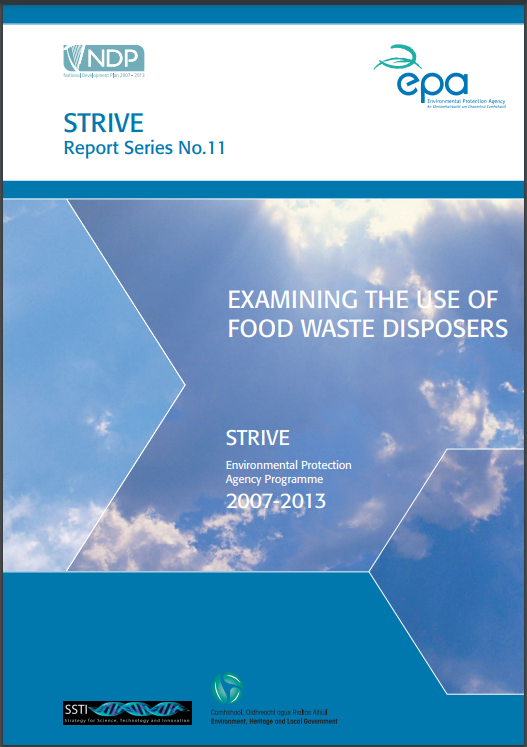 Published: 2008
ISBN: 978-1-84095-295-7
Pages: 53
Filesize: 2,323 KB
Format: pdf
Food Waste Disposers (FWDs) are units used by householders or commercial food operators to dispose of organic kitchen waste down the sinkhole to the sewer system. FWDS are easy to install to the premise's water outlet and can be retrofitted in buildings. Powered electronically, the units contain spinning metal plates to grind the food into particles varying in size from 2 mm to 50 mm on average.
Currently, over one-third of waste generated from households and almost half of waste generated from the commercial sector (in particular, food service establishments) in Ireland is organic. The policy for organic waste management in Ireland is to implement source-separate collection of this waste. FWDs transfer the management and treatment of organic waste from the solid waste stream to the wastewater system. Food wastes disposed of to sewer by FWDs have to be treated at a wastewater treatment plant (WWTP) rather than composted at home or collected separately and treated biologically. The increase in their use commercially and more recently in households is linked to the introduction of use-related waste charges and the high-profile marketing of the products.
The purpose of this report is to examine the potential impacts of domestic and commercial FWD use on the wastewater collection and treatment systems, the environment and stakeholders in Ireland.
Also available for download:
https://www.epa.ie/media/archive/research/research-thumbnails/strive-11.png