Research 241: Research of Upcycling Supports to Increase Re-use, with a Focus on Waste Electrical and Electronic Equipment (UpWEEE)
Authors: Michael Johnson, Kathleen McMahon and Colin Fitzpatrick
Summary: This report provides a range of recommendations aimed at supporting preparation for re-use of waste electrical and electronic equipment (WEEE) that will support the extension and development of this activity in Ireland.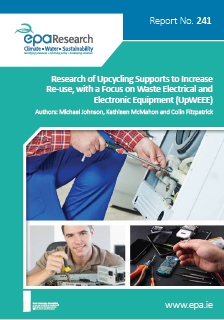 Published: 2018
ISBN: 978-1-84095-763-1
Pages: 80
Filesize: 2,429 KB
Format: pdf
Identifying Pressures
While Ireland enjoys relatively high WEEE recycling rates, re-use has yet to attain the success in Ireland that it enjoys in other EU member states. Re-use offers numerous benefits over recycling – it conserves the high embodied energy involved in the manufacturing of electrical and electronic equipment, creates higher levels of employment, makes higher quality equipment available to low income households and conserves critical raw materials which do not emerge from the current recycling systems.
Acknowledging these many benefits, Ireland has made recent efforts to establish a "preparation for reuse of WEEE" sector with the introduction of a certification system for organisations which can demonstrate that they operate to sufficiently high standards. There have also been protocols put in place to arrange for access to WEEE for these organisations.
The Research highlighted that despite the advances in preparation for reuse of WEEE in Ireland we are still at the developmental stage and not availing of the improvement in the resource efficiency, economic opportunities and social benefits to our WEEE management system.
Informing Policy
This project identified two key themes which should be addressed in order to support the success of a "preparation for reuse of WEEE" sector in Ireland.
The first theme is in the operation and regulation of our national WEEE management system. Based on an extensive analysis of organisations successfully conducting preparation for reuse in France, Belgium, Austria, UK and Spain, findings show that there are a number of structural barriers to preparation for reuse in place in Ireland which need to be addressed.
The second area which requires attention is in product design regulations. By examining the most common points of failure for large household appliances and IT products in large scale operations, it was possible to isolate the most relevant product design features which should become mandatory in implementing measures under the Energy related Products Directive.
Developing Solutions
With regard to how the Irish WEEE management system could be adapted to support preparation for reuse of WEEE, the Research identified the following solutions:
Align the interests of the Producer Representative Organisations and the approved preparation for re use of WEEE organisations through the introduction of preparation for re-use targets.
Remove barriers to accessing suitable equipment through better segregation and enable access by approved preparation for re-use operators
Integrate social enterprises in cooperation with the Department of Employment Affairs and Social Protection by supporting the establishment and approval of preparation for re-use organisations, particularly outside large population centres;
Charity shops should be enabled to become approved collection points for information technology (IT) WEEE suitable for preparation for re-use
To maintain the high standards required to become a certified preparation for reuse organisation specifically internationally recognised standards such as PAS 141 or EN 50614
Regarding product policy solutions, the report provides a host of technical recommendations on specific design features for large household appliances and ICT equipment.
https://www.epa.ie/media/epa-2020/publications/research/Research_241_thumbnail[1].jpg