Research 239: Valuing Ireland's Coastal, Marine and Estuarine Ecosystem Services
Authors: Daniel Norton, Stephen Hynes and John Boyd
Summary: This technical report demonstrates the data sources and methods that can be used to estimate the value of a number of coastal and marine ecosystem service benefits.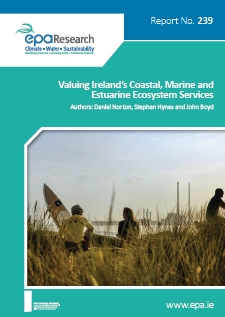 Published: 2018
ISBN: 978-1-84095-760-0
Pages: 85
Filesize: 2,126 KB
Format: pdf
Identify Pressures
Marine ecosystem services are provided by the processes, functions and structure of the marine environment that directly or indirectly contribute to societal welfare, health and economic activities. Marine ecosystems' ability to continue to deliver services is impacted by human activities taking place in in the coastal zone and on our marine waters. The research highlighted the potential welfare loss to society if the flow of marine ecosystem services is not maintained.
Inform Policy
Marine ecosystem service valuation is important for the implementation of an integrated ecosystem approach to marine resource management. Those with responsibility for the implementation of policies such as the EU Marine Strategy Framework Directive, the EU Maritime Spatial Planning Directive, the EU 2020 Biodiversity Strategy and the Harnessing Our Ocean Wealth Strategy should also benefit from the information generated in this report. The research presented here is an important first step in incorporating ecosystem service values into policy and decision making related to Ireland's marine and coastal environment
Develop Solutions
Factoring marine ecosystem service values into national income account frameworks may help to ensure a more sustainable economy for Ireland by making sure that growth in the economy does not exceed the ability of the marine environment to continue to deliver important ecosystem services. The research generated estimates for the quantity and value of provisioning, regulation and maintenance, and cultural marine ecosystem services that should be useful in this regard.
https://www.epa.ie/media/epa-2020/publications/research/Research_239_thumbnail[1].jpg