Water Research in Ireland
Summary: Water research projects funded by EPA since 2007.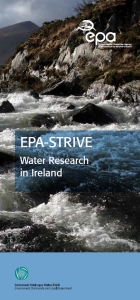 Published: 2012
Pages: 6
Filesize: 1,272 KB
Format: pdf
The EPA has a statutory role to co-ordinate environmental research in Ireland. Since 1994, the EPA research programme has supported R&D activities in a range of environmental areas. This programme of water research was carried out by researchers in third level institutions, state agencies, government departments, local and regional authorities, the private sector and individuals.
https://www.epa.ie/media/epa-2020/publications/research/STRIVE_Water_cover_thumb[1].jpg