Urban Environmental Indicators: Nitrogen dioxide levels in Dublin
Summary: Levels of Nitrogen dioxide in Dublin. Assessment based on indicative methods including diffusion tubes and dispersion modelling.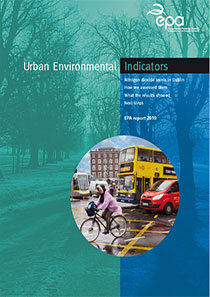 Published: 2019
ISBN: 978-1-84095-846-1
Pages: 22
Filesize: 6,191 KB
Format: pdf
Levels of nitrogen dioxide were assessed for Dublin using diffusion tubes and air dispersion modelling. These methods are indicative only.
Highest levels of nitrogen dioxide are at locations with heavier traffic.
There are many areas where nitrogen dioxide is problematic, suggesting they may be over the EU limit in particular places.
Levels of nitrogen dioxide are well within the EU limits in many residential areas. Two detailed technical reports which informed the summary report are available to download at the link below.
Technical Report 1 - Diffusion Tube Assessment
Technical Report 2 - Modelling Assessment
https://www.epa.ie/media/epa-2020/publications/monitoring-amp-assessment/air/Urban_Env_Indicators_DLC.jpg