Pilot Farm Hazardous Waste Bring Centres in 2013
Summary: The EPA in collaboration with the Pesticide Control Division of DAFM, Teagasc, six local authorities, Rilta Environmental Limited (a hazardous waste contractor), WEEE Ireland and the European Recycling Platform, delivered a pilot project to determine the nature and extent of on-farm stockpiling of hazardous waste. The project entailed the operation of six bring-centres for farm hazardous waste in November 2013.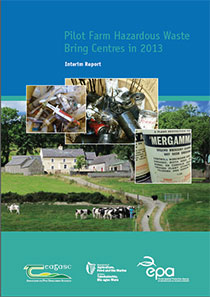 Published: 2014
ISBN: 978-1-84095-541-5
Pages: 30
Filesize: 1,360 KB
Format: pdf
The aim of the joint initiative was to facilitate the collection, recovery and disposal of hazardous wastes from farms in accordance with national and European waste legislation; quantify and characterise farm hazardous waste (including de-registered pesticides), and research the need for a national farm hazardous waste collection scheme.
A total of 864 farmers used the bring centres and deposited 94,472 kg of farm hazardous waste and 22,228 kg of waste electronic and electrical equipment and batteries. The 6 locations were Ballinasloe (141 farmers); Tullow (142); Ballymote (79); Trim (117); Midleton (163); and Thurles (222). Farmers contributed financially to the pilot project and were issued with a certificate of disposal.
Number of Farmers
864
Average weight deposited per farmer
109kg
Type and quantify of farm hazardous waste
Tonnes
Waste Oil
62
Pesticides (included 300kg POPs)
14
Paint (water and solvent based)
7
Veterinary medicines & sharps
5
Oil filters
3

Other hazardous wastes e.g. corrosives, aerosols,

empty containers etc.

3.5
This pilot project proves that there are substantial quantities of hazardous waste present on farms (both legacy and current) which could pose a risk to human and animal health and the environment. The pilot also supports many existing national legislative and policy requirements and ambitions including, the National Waste Prevention Programme, the National Hazardous Waste Management Plan, the Water Framework Directive, the Stockholm Convention on Persistent Organic Pollutants (POPs), Pesticide legislation, Food Harvest 2020, Bord Bia Quality Assurance Schemes and Smart Farming, a resource efficiency initiative (www.smartfarming.ie).
The project team plan to run an additional pilot scheme in November 2014. The primary aim of the second pilot is to facilitate the collection of hazardous wastes from farms and to further research, quantify and characterise these wastes. Initial results from the first pilot demonstrate the clear need for a suitable and affordable national farm hazardous waste collection scheme. A producer responsibility initiative could be considered by the Department of Environment, Community and Local Government whereby manufacturers, importers, distributors and retailers of biocides, pesticides and veterinary medicines provide for such a national scheme.
https://www.epa.ie/media/epa-2020/publications/compliance-amp-enforcement/waste/Farm_haz_waste_DLC.jpg