Research 303: Research Support for Integrated Atmospheric Studies at Mace Head
Authors: Darius Ceburnis, Colin D. O'Dowd, Stephen G. Jennings and Margaret Ryan
Summary: This fellowship project supports extensive research efforts on particulate matter (PM) studies in Ireland and at Mace Head station, particularly for building a knowledge base and establishing and sustaining long-term measurement series at the station.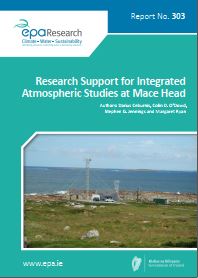 Published: 2019
ISBN: 978-1-84095-875-1
Pages: 63
Filesize: 2,446 KB
Format: pdf
Identifying Pressures
Air pollution reduction measures aimed at improving human well-being may result in stronger, accelerated global warming; this is becoming evident, especially over the Polar regions. Consequently, air quality issues have to be looked at concurrently with climatic implications, both of which can be enabled by observations carried out at the developed world-class infrastructure at Mace Head. The highest uncertainty in air pollution studies comes from inaccurate source apportionment using traditional offline chemical analysis. New, more accurate and rapid methods need to be developed and applied to adequately respond to air quality pressures.
Informing Policy
This fellowship consolidated and facilitated research efforts and outcomes at the Mace Head facility, with specific research topics aimed at informing policies such as the Clean Air Act. Long-term measurements supported at Mace Head provided evidence that air pollution measures aimed at reducing sulphurous emissions have had great success, dramatically reducing sulfate levels in the entire North Atlantic region. Synergistic deployment of state-of-the-art instrumentation revealed that air pollution episodes in cities are caused by solid fuel combustion, with significant contributions from wood, peat and coal. The established and facilitated 24/7 near-real-time measurements of aerosol chemical composition by aerosol mass spectrometry offer a method of air
pollution monitoring at reduced cost, as well as the ability to provide a rapid emergency response. This was demonstrated during the Icelandic volcano eruption in 2010. The 31 research papers contributed by the fellowship holder demonstrate the scope and extent of the consolidated research efforts, leading to improved understanding of air quality and climate associations and better- informed policies at national and international level.
Developing Solutions
This fellowship enabled and sustained scientific operations at Mace Head Atmospheric Research Station. The advanced method of dual carbon isotope analysis will allow better identification of natural and anthropogenic source contributions, which is essential for quantifying human-induced global climate change. The emerging state-of-the-art methodology developed using near-real-time aerosol mass spectrometry will enable a rapid response during emergency situations.
https://www.epa.ie/media/epa-2020/publications/research/Research_303_thumbnail[1].jpg