Research 209: Co-benefits for Water and Biodiversity from the Sustainable Management of High Nature Value Farmland
Authors: James Moran and Caroline Sullivan
Summary: Agriculture systems in Europe range from very intensive production on fertile land with high inputs to very extensive High Nature Value (HNV) farmland on marginal land with low inputs.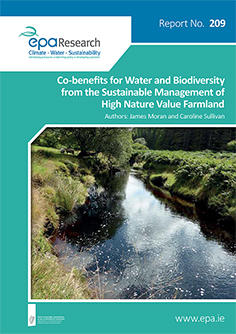 Published: 2017
ISBN: 978-1-84095-703-7
Pages: 32
Filesize: 1,667 KB
Format: pdf
Identifying Pressures
The growing demand for a wide range of public goods and services from land in the context of growing populations and a finite resource base is placing significant pressures on farmers and farmland in Ireland and worldwide. Farmers in Ireland with intermediate quality farmland are similarly confronted by multiple, often conflicting demands, because it can support extensive livestock farming; often has high potential for forestry; contains landscapes valued for their biodiversity, recreation and cultural values; and has potential for renewable energy generation and water provision. Policy objectives for different land use types and the services required from the range of agricultural land use intensities in Ireland need to be much clearer. Scotland's recent development of a land use strategy can provide many lessons for Ireland and highlights the challenges in trying to maximise benefits while minimising the trade-offs in the delivery of multiple services (Slee et al. 2014). The complex policy demands coupled with the heterogeneity of the land base further highlights the need for translation of clear national policy into local initiatives.
Informing Policy
High Nature Value farmland (HNVf) occurs predominantly (though not exclusively) in the west of the country and in upland areas in the rest of the country and has high spatial coincidence with high status water and the head water streams of larger downstream rivers. The management of High Nature Value farmland for biodiversity has the potential to have co-benefits for water quality and quantity (the regulation of flooding and maintaining base flow). Improved co-ordination and spatial targeting of initiatives to High Nature Value farmland could play a major role in meeting both the requirements of the Water Framework Directive and the Birds and Habitats Directives, while delivering other ecosystem services.
Developing Solutions
Different approaches are required to meet Water Framework Directive targets on High Nature Value farmland compared to intensive farmland. In High Nature Value farmland areas there needs to be a focus on promotion of farming activities that meet water and biodiversity objectives rather than focus on mitigation actions that may be required for activities associated with intensive agricultural practices. A framework needs to be developed which maps out a pathway for the development of integrated approaches for the management of our land, water and living resources to ensure sustainable use. There is a real need to expand the range of locally-led integrated catchment/ landscape management initiatives which aim to simultaneously provide multiple ecosystem services. These initiatives must take a participatory approach which will encourage an innovative network of stakeholders working in partnership to develop locally-adapted and results-orientated solutions. Success factors for local initiatives such as the Burren Programme highlight the need to secure a broad range of stakeholder involvement and the key role of dedicated community "champions" to take the initiative and drive innovation. A flexible and adaptive management approach which is well researched and knowledge based is needed. This recognises the value of sound science and traditional knowledge. Local initiatives need to be supported by state agencies and government departments with an integrated knowledge transfer/advisory service.
https://www.epa.ie/media/epa-2020/publications/research/Research-209-Water-and-Biodiversity-thumbnail.jpg