Research 236: Network Monitoring Rewetted and Restored Peatlands/Organic Soils for Climate and Biodiversity Benefits (NEROS)
Authors: Florence Renou-Wilson, David Wilson, Caítlin Rigney, Ken Byrne, Catherine Farrell and Christoph Müller
Summary: Ireland contains large areas of peatlands that constitute some of the most ecologically diverse habitats in the country. In natural peatlands, permanently waterlogged conditions prevent the complete decomposition of dead plant material leading to the accumulation of carbon rich peat. However, less than 20 % of the original peatland area is considered to be worthy of conservation.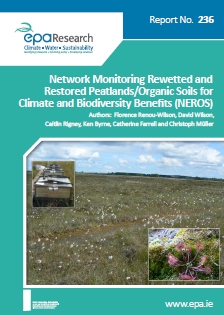 Published: 2018
ISBN: 978-1-84095-762-4
Pages: 55
Filesize: 2,147 KB
Format: xlsm
Identifying pressures
A field-based study was conducted that simultaneously quantified both biodiversity and climate mitigation benefits (i.e. GHG fluxes) across a rewetted peatland land use category network (NEROS). The land use categories (LUCs) monitored were forestry (on nutrient poor soils), grassland and peat extraction (domestic cutover and industrial cutaway on nutrient-poor and nutrient-rich soils). Drained sites were also monitored for comparison purposes.
The findings demonstrated that the environmental and management variables present prior to rewetting can influence species composition and, therefore, the regeneration of species typical of natural sites. This in turn will affect the climate benefits from rewetting degraded peatlands in terms of potential for GHG emissions reduction and in some cases, the return of the carbon sequestration function characteristic of natural peatlands.
This study found that rewetting can bring back peat forming (i.e. carbon sequestering) vegetation within a short timeframe (<10 years) and this period is shortened in less damaged sites, such as drained only raised bogs.
Such synergy between GHG emissions saving and biodiversity may not be achieved at other sites and therefore the best outcomes should be prioritised. For example, high carbon dioxide (CO2) emissions can be avoided from rewetting industrial cutaway where typical raised bog biodiversity may not return.
Meanwhile, rewetting previously afforested bogs remains a major challenge from both biodiversity and climate perspectives.
Informing policy
This report is opportune as it informs on the delivery of sustainable management of one of the last natural resources in Ireland, as envisioned in the 2015 National Peatlands Strategy.
Providing high biodiversity and avoiding CO2 emissions, drained-only sites, which includes most domestic cutover bogs should be targeted for rewetting so Ireland can deliver on both biodiversity and climate targets and facilitate its legal requirements under EU Directives and International conventions. In addition, the findings from this research suggest that since drained peatlands managed for peat extraction are significant CO2 emission hotspots and have a positive feedback on climate change, they should be also targeted for rewetting as a climate mitigation strategy.
Developing solutions
The rewetting of degraded peatlands is a major challenge and can be a balancing act between benefiting biodiversity and/or climate. Having taken full cognisance of the potential areas of each land use category, the findings from this research suggest that rewetting of drained only cutover bogs and industrial cutaway peatlands should be prioritised to maximise biodiversity provision and climate change mitigation.
https://www.epa.ie/media/epa-2020/publications/research/Research_236_Thumbnail.jpg