Climate Research Coordination Group: First Report on Activities: June 2017 - December 2018
Authors: This report has been prepared by the Climate Research Coordination Group with the assistance of Flannery Nagel Environmental Ltd. Edited by Frank McGovern, Alice Wemaere and Lisa Sheils (EPA). May 2019
Summary: This first report presents a summary of the Climate Research Coordination Group's activities during an 18-month period from June 2017 to December 2018.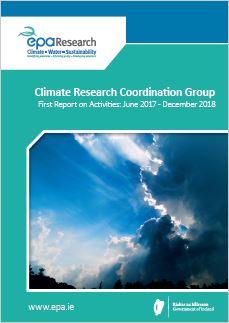 Published: 2019
ISBN: 978-1-84095-831-7
Pages: 64
Filesize: 4,653 KB
Format: pdf
The Climate Research Coordination Group (CRCG) was established under the Environmental Protection Agency's (EPA) 2014–2020 Research Strategy. The main function of the CRCG is to coordinate climate change-related research in Ireland, to support and promote coordination between relevant funding organisations and to provide a platform to exchange knowledge and disseminate research findings. The CRCG is facilitated by the EPA and includes members from across several government departments, local authority representatives, agencies and stakeholders.
The CRCG is identified in the government's National Mitigation Plan (NMP) as the body representing the key actors in Irelands' climate change-related research activity. Action 11 of the NMP is led by the EPA and requires that the CRCG reports annually on its activities and provides an assessment and synthesis of key findings from the research programme and wider research activities every 5 years.
Innovation 2020 is Ireland's 5-year strategy for research and development, science and technology. In 2018, the Department of Business, Enterprise and Innovation published research priority areas for 2018–2023. This report revised the themes and priority areas established in 2012. The most significant changes have been to the "Energy" theme. Based on developments since 2012, including the urgency to address climate change and sustainability challenges, this theme has evolved and has been renamed "Energy, Climate Action and Sustainability", with the two priority areas updated to "Decarbonising the Energy System" and "Sustainable Living".
This first report presents a summary of the CRCG's activities during an 18-month period from June 2017 to December 2018. Activities detailed in this first report cover competitive research funding committed by members of the CRCG for research and development performed elsewhere, as well as Horizon 2020 leveraged funding. This report is based on the information provided by the members of the group. Future reports will cover annual periods from January to December.
In summary, during this first reporting period (June 2017–December 2018):
Five CRCG meetings were held and one research event took place in December 2017.
220 research projects were identified as ongoing, of which 104 were awarded during the reporting period, with a total budget allocation of €25 million.
Irish drawdown was c. €2.97 million under Horizon 2020, with 14 successful projects.
Collaboration between members was evident through the co-funding of 19 new research projects.
https://www.epa.ie/media/epa-2020/publications/research/Climate-Research-Coordination-Group-June-2017-December-2018-report-thumbnail.jpg