Climate Research Coordination Group: Fourth Report on Activities: January - December 2021
This report has been prepared by the EPA on behalf of the Climate Research Coordination Group
Summary: This fourth report presents a summary of the Climate Research Coordination Group's activities in 2021.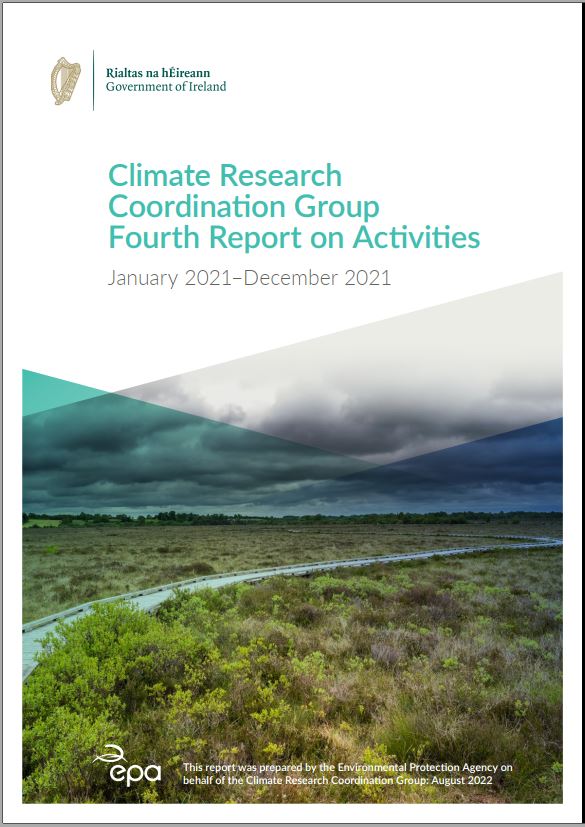 Published: 2022
ISBN: 978-1-80009-057-6
Pages: 76
Filesize: 8,257 KB
Format: pdf
The Climate Research Coordination Group (CRCG) was established by the Environmental Protection Agency to coordinate climate change-related research in Ireland. This report presents a summary of investments, of progress on strategic goals and related developments during 2021 and of the CRCG's activities over that period. This (fourth) report covers competitive research funding committed by members of the CRCG, leveraged funding from EU schemes and core research activities carried out by CRCG members themselves over the period 1st January to 31st December 2021.
The CRCG supports and promotes collaboration by research funding organisations and provides a forum for the exchange of information on activities and plans. The objective is to advance shared strategic goals for climate change research, to ensure coherence in climate change research investments in Ireland and to effectively link these to European funding streams, including Horizon Europe and the Joint Programming Initiative (JPI) Climate.
The EPA convenes and chairs CRCG meetings. CRCG membership is open to departmental officials and to representatives of stage agencies/bodies and local authorities and to stakeholders who either fund climate change research or use the outputs from it.
This report builds on and updates the material from the first report (June–December 2018) published in May 2019, the second report (January–December 2019), published in June 2020, and the third report (January–December2020), published in June 2021.
Action 82(i) of the Climate Action Plan 2021 (CAP21) requires that the CRCG provides an annual report on its activities.
Over the course of 2021, the CRCG collated a single submission to the national research classification project run by the Department of Further and Higher Education, Research, Innovation and Science (DFHERIS) for climate research. The CRCG's submission focused on making the climate-relevant elements up to date, relevant to Ireland and consistent with other sectors, e.g. energy. The collaborative work on the climate codes also made the classification system more appropriate for use by CRCG members to report on their activities in a consistent manner. The CRCG also began examining climate research metrics, which has continued in 2022. This addresses Action 82(v) of CAP21, which requires that the CRCG examines climate research classification and climate research metrics to support the delivery of the new National Research & Innovation Strategy, Impact 2030.
This report is based on the information provided by the members of the group.
This report and other annual reports are complemented by the five-year assessment of climate research activities in Ireland (5YAR), which provides a synthesis of findings and information from funded research. The 5YAR report will be completed in 2023 and addresses Action 82(ix) of CAP21.
In summary, in 2021:
Significant progress was made in the first 5YAR, which included completion of the award and scoping processes (Action 82 of the CAP21).
New headings for reporting climate research were used in this report (climate research and research of relevance to climate action).
42 new climate research competitive awards were made in 2021, with a total budget commitment of €24.1 million.
20 of the new climate research competitive awards were supported through co-funding from other CRCG members in addition to the principal CRCG member that made each award. The other 22 awards were funded solely through the CRCG member that made the award.
86% of the budget went to projects led by University College Dublin, Teagasc, National University of Ireland Galway and Maynooth University (based on funding for successful projects assigned to the lead partner).
In excess of €8.2 million was allocated to core research activities in 2021, i.e. research activities that are performed in house (e.g. by Teagasc, Met Éireann, etc.).
There were a further 101 new research competitive awards for projects of relevance to climate action, with a total budget commitment of €76.4 million.
The Irish climate research community achieved a drawdown of €32.6 million under Horizon 2020/Horizon Europe (47 projects) and €1.7 million from Interreg (one project).
The launch of the second The Status of Ireland's Climate report, by the EPA, Met Éireann and the Marine Institute, received considerable media attention.
The Royal Irish Academy Climate Conversations series was held online and provided opportunities to hear about the findings from a number of recent climate research reports.
The EPA embarked on a new project with Yale University's Program on Climate Change Communication to research the Irish public's attitudes, behaviours, policy preferences and beliefs around climate change. The first report from this project, Climate Change in the Irish Mind, was published in 2021.
In addition, 80 climate research communication events and workshops took place in 2021 involving CRCG members.
Download the Climate Research Coordination Group Report 2021 Infographic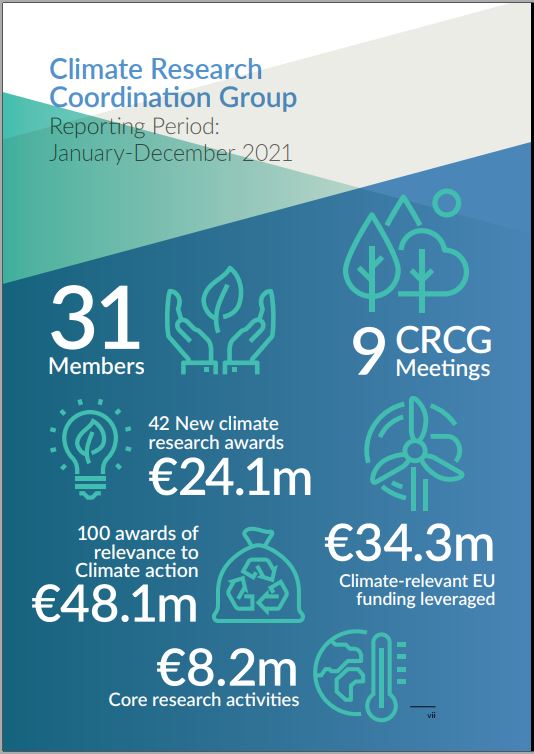 https://www.epa.ie/media/epa-2020/research/national-environmental-research-coordination/CRCG-Report-2021-cover.jpg