Research 258: The Development of an Irish Climate Information Platform (ICIP) - Phase 3 (2015-2017)
Authors: Barry O'Dwyer, Mohammad Hashemi and Jeremy Gault
Summary: The global climate is changing as a result of human influences; the impacts of these changes are already being felt across all continents and oceans and are expected to continue and intensify for many decades to come.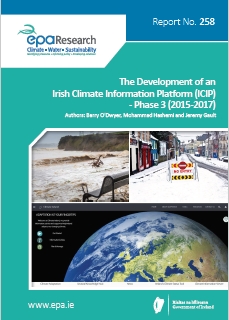 Published: 2018
ISBN: 978-1-84095-795-2
Pages: 43
Filesize: 1,980 KB
Format: pdf
Identifying Pressures
Ireland's climate is changing in line with global trends and projections indicate that this trend will continue and intensify into the future. These changes and associated impacts will have a wide range of consequences for Ireland's economy, environment and society. As a result of past and present emissions of greenhouse gases (GHGs), we are now committed to climate change for many decades to come, regardless of ongoing mitigation efforts to limit GHG emissions. Therefore, to prevent or minimise the adverse impacts of climate change, planned adaptation to these changes is urgently required. As adaptation policy progresses, it isincreasingly important that decision makers have access to relevant and high-quality information that can be used to support the development of national and transnational adaptation strategies and plans. In response, and adopting a phased approach to development, the EPA-funded project, Ireland's Climate Information Platform (ICIP), has developed a climate information platform (CIP) prototype for Ireland (http://www. climateireland.ie). This aims to provide decision makers with a one-stop web-based resource of climate and adaptation information for Ireland and support to build national capacity for adaptation.
Informing Policy
Through a partnership approach, ICIP Phase 3 (2015–2017) developed user-centred adaptation guidelines for sectoral decision making, which are underpinned by resources and tools made available through the CIP prototype. ICIP Phase 3 also increased users' capacity to apply the CIP prototype in adaptation planning through the provision of user-focused training. Through the enhancement of the existing CIP prototype and the continued promotion of ICIP as Ireland's key support for climate adaptation planning, ICIP Phase 3 increased the usage of this key online resource by local authorities and government departments.
Developing Solutions
ICIP Phase 3 has made substantial progress in developing a CIP tailored to the needs of adaptation decision making in Ireland and has demonstrated the potential for employing existing information and data in meeting the challenge of initiating, planning for and managing climate change adaptation. ICIP Phase 3 has further developed the CIP prototype to support planning for climate change adaptation at sectoral levels and increased capacity for adaptation planning at national and local levels. As such, in addition to containing user-defined information on the projected impacts of climate change at a range of scales, it also provides guidance, tools and support for developing adaptation strategies.
https://www.epa.ie/media/epa-2020/publications/research/Research_258_Thumbnail[1].jpg