Research 300: Climate Change in Irish Media
Authors: Eileen Culloty, Alan Smeaton, Jane Suiter, Padraig Murphy, Pat Brereton, Dian Zhang and Dave Robbins
Summary: Research indicates that public concern about climate change is largely derived from media consumption. This project investigated coverage trends on climate change across print, broadcast and online media in order to make recommendations for climate change communicators.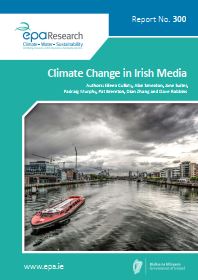 Published: 2019
ISBN: 978-1-84095-870-6
Pages: 69
Filesize: 2,635 KB
Format: pdf
Identifying Pressures
Media coverage of climate change is influenced by an evolving set of relationships between media production practices, scientific knowledge, policy agendas, and public understanding and engagement. In Ireland, media coverage of climate change has broadly followed international trends. Between 2007 and 2015, newspaper coverage peaked during international climate change conferences and extreme weather events and fell when other pressing issues, such as politics and economics, dominated the news agenda. Moreover, there is a dearth of visual communication linking climate change to topical news stories such as flooding, economic recovery and agriculture. Prior to 2000, climate change was largely an invisible issue for the public broadcaster. Since then, the volume of coverage has fluctuated. Coverage fell significantly following the financial crisis and did not recover until the build-up to the United Nations Conference of the Parties in 2015. On social media, climate change discourses are led by distinct influential groups, including the mainstream media, the non-governmental organisation (NGO) sector and international political actors.
Informing Policy
The research offers a greatly improved understanding of media coverage of climate change in the Irish context. In addition to research publications, the key findings have informed actions on sustainability in Irish media production, the development of educational programmes on climate change media and policy, and contributions to national research committees. The research has also facilitated engagement with media and NGO stakeholders in order to co-produce a set of recommendations for climate change communicators.
Developing Solutions
The project identified a number of recommendations for climate change communicators. It outlines the need to develop a nuanced understanding of media practices and production norms across different types of media. Moreover, effective communication within the media sphere will benefit from the identification of credible sources and experts who can clearly communicate to a non-expert audience while also elucidating the relevance of climate change across a range of national and international contexts.
https://www.epa.ie/media/epa-2020/publications/research/Research_300_thumbnail[1].jpg