Research 374: Piloting Innovative Approaches in Sustainable Communities towards Achieving the United Nations Sustainable Development Goals in Ireland
Authors: Vincent Carragher and Hugh O'Reilly
Summary: This study set out to catalyse the sustainability transition of communities using the United Nations Sustainable Development Goals (SDGs) as a framework. The research had a branded, public-facing campaign, Spark Change (www.sparkchange.ie), which recruited communities to an SDG challenge, effectively asking and supporting them to progress their sustainability transition and related SDG actions.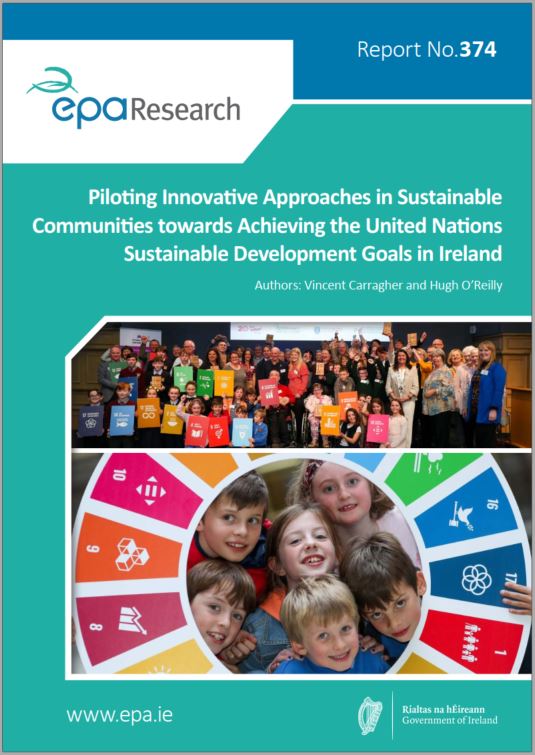 Published: 2021
ISBN: 978-1-84095-993-2
Pages: 60
Filesize: 2,619 KB
Format: pdf
Project Highlights
Watch the project highlights video
Identifying Pressures
Building on previous Irish research examining sustainability transitions in communities, this study provides insights into local contexts and pressures in over 130 communities. Study methods included active profiling, discourse-based approaches and engagement identifying and mitigating local pressures. Mapping identified attributes, competencies, processes and stakeholders that lead to SDG action and are critical for achieving such action.
The findings of this study informed the recommendations made on the pressures identified. One example is that, although umbrella organisations have the appeal of aggregation for government, individual Spark Change communities report a growing gap between themselves and government.
Informing Policy
Diversity is a challenge for policymakers in understanding the structure and function of complex adaptive systems and catalysing more sustainable societies. Ireland's whole-of-government approach promises cross-departmental SDG action. SDG leadership from policymakers is critical to having an impact on diverse stakeholders, processes and SDG action. Working with communities, policymakers can drive SDG action by customising and implementing effective approaches using skilled facilitation, the power of norms and other drivers identified and tested in this project. This action research uniquely identified and engaged with a diversity of stakeholders, challenges and processes catalysing SDG action.
This research informed policy through building a bottom-up SDG action measurement method; examining and catalysing SDG action in communities; identifying the local context, views, needs and factors that catalyse or hinder SDG action; developing discourse-based approaches and action research that engage communities and citizens in cost-effective SDG action; and trialling an innovative and cost-effective national SDG action campaign, across 130 communities, demonstrating how government can meet its SDG commitments.
Developing Solutions
This action research co-created solutions through customised and more general SDG action campaigns with communities; catalysing sustainability using measurement, recognition, norms, rivalry, reinterpretation of technical knowledge into local narrative and storytelling; applying discourse-based approaches to identify needs and challenges and to develop solutions; creating a story-harvesting platform that demonstrates exemplar community SDG action to communities and government; and building and testing a bottom-up SDG action measurement method.
Despite the proliferation of well-meaning toolkits and e-guidance, our communities report that using such prescriptive tools is challenging because of the time involved. Instead, the results suggest a preference for customised support and the need for skilled facilitation and animation to drive community SDG action.
https://www.epa.ie/media/epa-2020/research/epa-funded-research/Twitter_374.jpg