CréBeo Soil Biodiversity Project
Baseline Data, Response to Pressures, Functions and Conservation of Keystone Micro- and Macro-Organisms in Irish Soils
Summary: STRIVE 67 - Olaf Schmidt, Aidan M. Keith, Julio Arroyo, Tom Bolger, Bas Boots, John Breen, Nicholas Clipson, Fiona M. Doohan, Christine T. Griffin, Christina Hazard and Robin Niechoj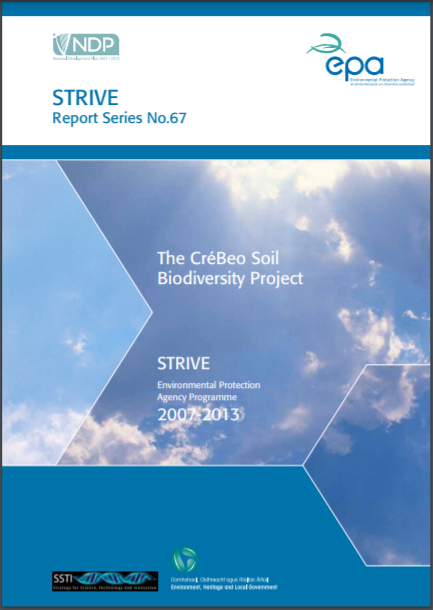 Published: 2011
ISBN: 978-1-84095-388-6
Pages: 51
Filesize: 1,957 KB
Format: pdf
European and national policy developments on soil protection and conservation of biological diversity (biodiversity) have exposed knowledge gaps that need to be addressed by research. Soils are among the most biodiverse ecosystems on earth and, in turn, many ecosystem services provided by soils (such as nutrient cycling, waste degradation, pest and disease suppression, carbon storage) depend on the activity of these diverse organisms. However, systematic and specific information is limited on the organisms that live in Irish soils, their response to environmental pressures and their roles in soil processes.
By increasing the scientific knowledge and research capability in soil biodiversity in Ireland, this project has:
Informed sustainable soil protection strategies; and
Enhanced our understanding of biological diversity in Irish soils, a priority under the National Biodiversity Plan.
High print resolution final report can be downloaded here
https://www.epa.ie/media/archive/research/research-thumbnails/strive-67.png