Research 179: Soil Status and Protection
Authors: F. Bampa, K. Daly, R. Fealy, L. O'Sullivan, R. P.O. Schulte, C. Gutzler, D. Wall and R.E. Creamer
Summary: The objectives of this desk study were to review the current EU and Irish legislations, policies and available data which assess or encompass soil protection issues for Ireland.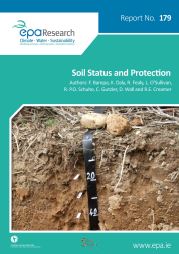 Published: 2016
ISBN: 978-1-84095-649-8
Pages: 56
Filesize: 2,077 KB
Format: pdf
Informing Policy
At EU level, the European Commission (EC), acknowledging the Rio+20 goal on 'Zero Net land degradation by 2030', remains committed to the objective of soil protection through policies such as the 7th Environment Action Programme, the Resource Efficiency Roadmap. At International scale, the UN Sustainable Development Goals highlight four actions which explicitly deal with soils. Therefore at a national level there needs to be increased recognition of the role that soils play in supporting sustainable land management, and this needs to be incorporated into national policy development in the future. The Soils Status & Protection Project has provided an overview of the policy and legislative drivers currently dealing with soil protection, both at a European and a national scale. The research team has highlighted a number of initiatives are developing globally which Ireland should sign up to. These include Global Soil Partnership and the Global Soil Biodiversity Initiative.
Developing Solutions
Soil information on the status and protection of soil has been limited to date, preventing any robust gap analysis on specific soil quality issues or assessments of areas under external pressure, in order to support policy development into the future. While many Irish research projects exist which collect data on the various aspects of soil, there is little harmonisation across projects. The Soils Status & Protection Project identified that meta-data/summary information for funded projects rests either with the funder or the principle researcher who conducted the work, with the exception of the EPA and FP7 meta-data platforms. The Soils Status & Protection Project evaluated the state of the art on data for soil quality and protection in Ireland and identified future research needs for soil science and related research. An online meta-data catalogue was developed which synthesises information with a focus on soil. This catalogue SAFER-SOIL (http://erc.epa.ie/soils/projects/soilstatus/index.php) provides an overview of what data are available, methods applied and how this information could be used to inform current and future policy drivers and research in Ireland.
https://www.epa.ie/media/epa-2020/publications/research/thumbnail179[1].jpg