Research 260: Impact of Cattle Access to Watercourses: Literature Review on Behalf of the COSAINT Project
Authors: Paul O'Callaghan, Mary Kelly-Quinn, Eleanor Jennings, Patricia Antunes, Matt O'Sullivan, Owen Fenton and Daire Ó hUallacháin.
Summary: The primary objective of this literature review was to collate and assess the available literature on the environmental impact of cattle access to watercourses, with an emphasis on empirical research that is directly relevant to the environmental effects.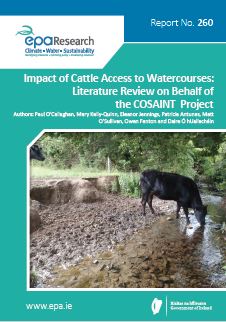 Published: 2018
ISBN: 978-1-84095-797-6
Pages: 60
Filesize: 1,719 KB
Format: pdf
Identifying Pressures
This review found variable results within and between studies in relation to the impact of cattle access and exclusion on a variety of water quality parameters. The evidence for the benefits of excluding cattle from watercourses seems particularly strong in relation to hydromorphology, sedimentation and bacterial parameters. Conclusions in relation to the impact of cattle access on nutrient parameters are particularly variable, with several studies finding nutrient impacts related to cattle access/exclusion and others observing only minimal or insignificant results.
It should be noted that, although there was variability in relation to the results that were reported, the review did not find any literature indicating that cattle access to watercourses had a positive impact on the majority of the parameters assessed. Thus, the studies included in this review reported that cattle access resulted in a negative impact on stream parameters at worst or in no significant difference at best. Similarly, cattle exclusion studies reported that cattle exclusion had either a positive impact on stream parameters at best or no significant impact at worst.
https://www.epa.ie/media/epa-2020/publications/research/Research_260_Thumbnail[1].jpg