Research 246: Enabling Decarbonisation: A Study of Energy Sector Governance in Ireland
Author: Diarmuid Torney
Summary: Ireland has strict decarbonisation targets to meet by 2050. This study is concerned with which governance institutions could enable this transition to a low carbon economy and society. Through analysis of the roles and mandates of a number of governing state institutions in the energy sector, the study makes a number of recommendations for how governance arrangements could be strengthened to better facilitate decarbonisation.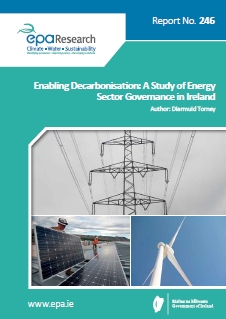 Published: 2018
ISBN: 978-1-84095-772-3
Pages: 28
Filesize: 828 KB
Format: pdf
Identifying Pressures
Low-carbon transition is a profoundly political and societal challenge. This study examines how existing governance structures in Ireland can better facilitate the transition to a low-carbon economy and society by 2050, with a focus on decarbonising electricity generation.
Informing Policy
By analysing the roles of a number of relevant governance institutions, the study seeks to inform policy through high-level recommendations for strengthening governance of the electricity generation sector to enable decarbonisation.
Developing Solutions
The study argues that Ireland needs (1) a stronger and more positive decarbonisation narrative; (2) stronger direction and new thinking from government; (3) better structures to ensure policy implementation; (4) a strengthened governance architecture; (5) a review of regulators' roles and mandates; (6) a better framework for funding and delivering transformational societal change; and (7) further, more fine-grained comparative research on the governance of decarbonisation.
https://www.epa.ie/media/epa-2020/publications/research/Research_246_thumbnail[1].jpg