Decision-Support Tools for Managing the Urban Environment in Ireland.
STRIVE Report for the ERTDI-funded project: 2005-CD-U1-M1
Summary: STRIVE Report 92 - Brendan Williams and Sheila Convery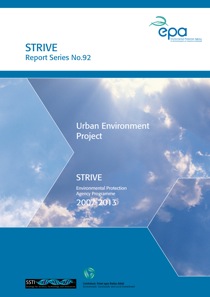 Published: 2012
ISBN: 978-1-84095-452-4
Pages: 79
Filesize: 2,426 KB
Format: pdf
There are costs and benefits associated with physical planning decisions and the exact direction pursued will be decided by the interaction between planners, policy makers and the public working together. Infrastructure, development, environmental and zoning decisions should be undertaken on the basis of a rational methodology that incorporates inputs, including evidence of population and employment projections, land-use surveys, assessment of housing needs, and the demand for retail space and community facilities (including education and open space/amenities provision). This process should culminate in the quantification of future urban land demand and its location. In addition, the suitability of the land itself in terms of topography, physical characteristics and the linkages to the existing urban area are essential criteria in rational decision making. The MOLAND model allows diverse policy options to be evaluated before concrete decisions are made and provides a useful basis for discussion on the issues facing policy interests.
Research reports and detailed analyses are available for download at the Urban Environment Project website (http://www.uep.ie) in the form of journal publications, working papers and conference presentations.
You can download the print version final report here.
https://www.epa.ie/media/epa-2020/publications/research/STRIVE_92_thumb[1].jpg