Research 336: Charting Ireland's Sustainable Future: Innovative Approaches towards Achieving the United Nations Sustainable Development Goals for Enterprises
Authors: Colm Gaskin, Ken Stockil, Niall Keely and Myles Kingston
Summary: The Sustainable Development Goals (SDGs) are a call for change – a change to how we live, work, think and interact, both with each other and with our environment, to protect and secure our future and the future of the planet. This report captures the key recurring themes from Ireland's engagement to date with the seven environmental SDGs and its role in supporting the private sector to deliver impactful contributions to these SDGs.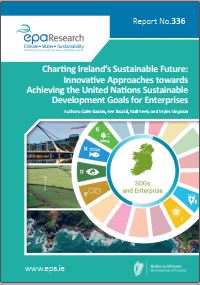 Published: 2020
ISBN: 978-1-84095-931-4
Pages: 113
Filesize: 6,978 KB
Format: pdf
Project Highlights
Watch the project highlights video
Following an 18-month period of desk research and a process of national and international stakeholder consultations, this report captures the key recurring themes from Ireland's engagement with the 7 environmental UN Sustainable Development Goals (SDGs) to date and its role in supporting private sector enterprises in delivering impactful contributions to these SDGs. The report provides a series of recommendations across each theme on how the enterprise sustainability eco- system must work in unison to achieve its targets by 2030.
Identifying Pressures
With less than 10 years remaining to achieve the targets set out in Agenda 2030, the world continues to face key global and local challenges in addressing the 17 Sustainable Development Goals – navigating the complexity of such a broad framework, ensuring political buy-in, converting that buy-in into both tangible and measurable outputs, financial and resource constraints, fostering a paradigm shift in human behaviour and ensuring that governments and communities engage with the private sector to deliver sustainable change. The private sector must play an active role in supporting the achievement of the environmental aspects of the 17 goals or the world risks failing to meet its targets. The SDGs can be viewed as a request to enterprise, first to act more responsibly and then to use their resources to solve complex global issues through innovative, collaborative and inclusive approaches to help create a better world.
Informing Policy
This research contributes to the existing body of knowledge and provides insight on the current sustainability landscape, mapping some of the key stakeholders involved, both in Ireland and internationally. It identifies global trends in regard to sustainability strategies and policies, the availability of enterprise sustainability supports and the latest SDG tools and technologies. This research also maps the degree of stakeholder alignment nationally both with the SDGs and other stakeholders in Ireland. It also examines and compares the level of SDG engagement in Ireland with best practice from across the globe. Following extensive desk research and a process of national and
international actor consultations, the report helps define the key challenges, barriers and drivers for enterprises in engaging with the environmental SDGs, highlighting the nuances and complexities involved in reframing sustainability as an enabler for economic growth.
Developing Solutions
Supported by research, the report outlines several recommendations to help promote engagement at enterprise level in Ireland with the environmental and sustainability aspects of the SDGs. Despite launching in 2015, there is still a lack of knowledge, understanding and engagement with the SDGs within Ireland. Therefore, there is a need to educate and raise awareness across enterprises as a first step to achieving the targets set out in the 2030 Agenda. Enabling structures that can foster and incentivise SDG engagement need to be developed at a national level through policy, enterprise support and guiding best practice behaviour. This can be achieved through driving standards compliance, reporting and benchmarking mechanisms.
https://www.epa.ie/media/archive/research/research-thumbnails/Thumbnail_336.jpg