A Study of Pay-by-Use Systems for Maximising Waste Reduction Behaviour in Ireland
Final Report for the STRIVE-funded project: 2008-WRM-MS-6-S
Summary: STRIVE Report 84 - Abigail O'Callaghan-Platt and Tadhg Coakley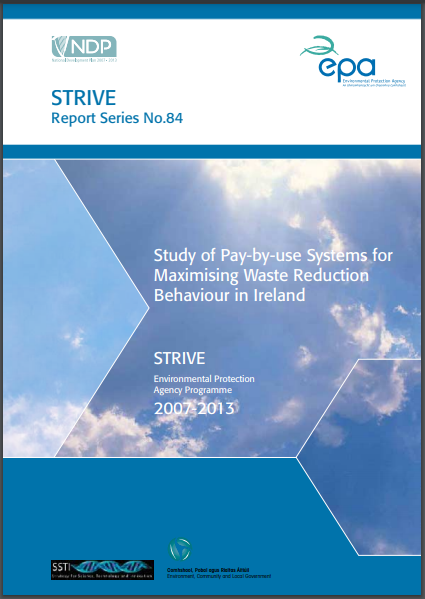 Published: 2011
ISBN: 978-1-84095-425-8
Pages: 69
Filesize: 1,766 KB
Format: pdf
This study aimed to evaluate pay-by-use (PBU) domestic waste collection systems in Ireland in terms of their impacts upon waste disposal, recycling, and, in particular, waste prevention, in order to determine the most effective system or system components for maximising waste reduction behaviour. In addition, the study examined the attitudes of waste collectors and householders to PBU waste charges generally, and to their own individual systems, with the overall research goal of identifying and recommending optimised PBU domestic waste charging systems for Ireland. The research was carried out in 2009 and 2010.
Information was gathered from all the 15 local authorities that collected domestic waste in 2009, using a survey and follow-up interviews and from 18 of the 80 private collectors operating in Ireland. To increase the private collector representation, the research team also gathered the 2008 Annual Environmental Reports (AERs) for other private domestic waste collectors. Data sets were used from 48 private collection schemes all over Ireland, servicing 298,848 households and from 14 local authority collection schemes, servicing 494,003 householders. In all, 62 data sets accounting for 792,851 households (over 50% of all households in Ireland) were used for analysis.
To analyse the attitudes of householders, the company Red C interviewed 1,000 people as part of their omnibus service (of which 790 were responsible for their households' waste management). The sample was quota controlled and weighted to the known national population data from the Central Statistics Office (CSO) 2006 census. Therefore, those surveyed were representative of the Irish population in terms of geographical location, age, gender and social class.
Also available for download:
Print-Quality Version (i.e high resolution PDF) of STRIVE Report 84.
https://www.epa.ie/media/archive/research/research-thumbnails/STRIVE-84.png