Occurrence and fate of pharmaceuticals and personal care products within sewage sludge and sludge-enriched soils
Final Report for the ERTDI-funded project: 2005-FS-30-M1
Summary: STRIVE Report 34 - Leon Barron et al.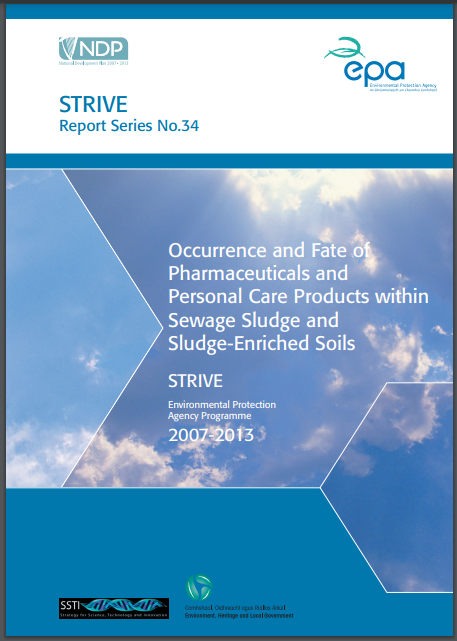 Published: 2009
ISBN: 978-1-84095-316-9
Pages: 73
Filesize: 1,974 KB
Format: pdf
The potential threat of pharmaceuticals and personal care products (PPCPs) to the environment has emerged as a topic of concern in recent years. To date, there exists a dearth of analytical methods to empirically determine their occurrence in solid media. This 3-year research and development project focused on a number of topics surrounding the exposure of the terrestrial environment to pharmaceuticals through land spreading of municipal biosolids (sludges) on agricultural land. More specifically, the aims of the project were:
To identify which PPCPs may occur at significant levels in waste-water treatment sludges
To develop robust analytical methods for soil and sludge analysis
To compare any occurrence data with those from a European case study
To determine the solid–water partition coefficient for all compounds in aqueous sewage sludge and soil suspensions
To model sorption data in order to identify preferred sorption modes in the environment
To assess the mobility of such compounds in sewage sludge amended soils after exposure to rainfall.
Also available for download:
Summary of Findings - Occurrence and fate of pharmaceuticals and personal care products within sewage sludge and sludge-enriched soils
To order a copy of this report:
Please contact the EPA Publications Office:
Telephone: (053) 9160600E-mail: publications@epa.ie https://www.epa.ie/media/archive/research/research-thumbnails/strive-34.png