Research 213: Material Reuse Good Practice Guide
Authors: Sarah Miller, Jackie McGloughlin, Olivier Gaillot and Louise Connolly
Summary: This report is a Material Reuse Good Practice Guide for anyone interested in extending the life-cycle of their items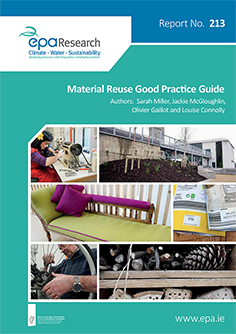 Published: 2017
ISBN: 978-1-84095-710-5
Pages: 45
Filesize: 2,921 KB
Format: pdf
Identify Pressures
The research identified that the common barriers to reuse include: access to useable materials, adequate facilities to store reusable materials, regulatory requirements, operating costs, skills requirements and public perception. The findings suggested that reuse organisations face barriers related to (i) the availability of materials, both in terms of quality of goods on the market, and in terms of donated materials; as well as (ii) storage of materials at recycling centres/civic amenity sites and within their organisations. The findings also highlighted regulatory challenges that affect reuse organisations in terms of licensing requirements and ambiguity of waste terminology. Furthermore, members of the public often consider second-hand or reuse items as lesser quality and that may limit their uptake of reused materials.
Develop Solutions
The outputs from the research have been developed in collaboration with the reuse sector and bring together practitioner experience from current activities here in Ireland and throughout Europe. Results from this study show variances between operational practice of reuse organisations related to materials use, scale, company policy, licensing requirements and data collection.
This research project facilitated a greater understanding of the challenges and opportunities for reuse organisations and promoted good operational practices. The research project developed a Good Practice Guide and individual Protocols for food, textile, bicycle and furniture reuse, which provide a resource for established reuse organisations to review their operational practice.
The research identified that there is potential to overcome barriers to reuse by building awareness, rebranding items as high quality, and building relationships among different actors. The research findings indicate that improving general reuse practices will ensure the success of individual reuse organisations, build public awareness about the importance of reuse, and increase the quantities of materials diverted from the overburdened landfills.
https://www.epa.ie/media/epa-2020/publications/research/EPA-RR-213_Cov-20mm[1].jpg