Research Report 173 - The Characterisation of Dairy Waste and the Potential of Whey for Industrial Fermentation
Authors: Michael P. Ryan and Gary Walsh
Summary: Research Report 173 detailing The Characterisation of Dairy Waste and the Potential of Whey for Industrial Fermentation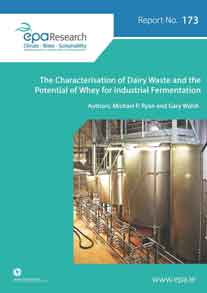 Published: 2016
ISBN: 978-1-84095-639-9
Pages: 50
Filesize: 2,799 KB
Format: pdf
Identifying Pressures/ Informing Policy
The Irish government is pursuing a policy of increasing both primary agricultural output and the agri-food sector in Ireland. To this end, two key strategic documents have been developed over the past number of years; Food Harvest 2020 and Food Wise 2025.
Food Harvest 2020 projects for a 50% increase in milk production using the average output of the years 2007 to 2009 as a baseline. This will equate to an approximate 2. 75 billion litre increase in production and will raise the primary output value of the sector by about €700 million annually.
Foodwise 2025 envisages increasing dairy production/processing activity as a core driver towards achieving an 85% increase in agri-food industry export value by 2025, and explicitly recognizes that increases in food production/processing systems must be as focused upon sustainability and environmental protection as it is upon increasing production. An increase in primary produc-tion will inevitably lead to increases in processing waste generated. Foodwise 2025 also recognizes that increased processing activity renders desirable further efficiencies in process water usage. Upscale in the manufacture of certain types of products, primarily casein powders and cheese, will lead to an increase in the amount of whey waste being produced, which is potentially of significant environmental concern. The research informs current policies such as Harvest 2020 and Foodwise 2025, and noted that Irish Dairy processers also expect that as milk production and processing increases, reviews of the pollution outputs in their IPC licenses will become
necessary.
Developing Solutions
The research identified several water saving measures that could be utilised in an Irish dairy processing setting. The research team noted that the majority of waste/wastewater treatment technologies currently used in the Irish dairy processing are traditional technologies and identified future treatment technologies that have potential for use in the Irish dairy processing industry.
One potential option for the management of whey, a key waste arising from diary production, was the growth of fungal strains in whey-based media which could have industrial potential.
The project found that an adapted whey media could to be used to grow recombinant Escherichia coli, which is used to produce various protein products in the biotechnology sector.
https://www.epa.ie/media/epa-2020/publications/research/Thumbnail173[1].jpg