Research 134:Biological Effects and Chemical Measurements in Irish Marine Waters
EPA and Marine Institute and Trinity College Report
Summary: The overall aim was to increase Ireland's capacity for the generation of integrated monitoring of biological effects and chemical measurement data and for the completion of a pilot scale assessment of the quality of the Irish marine environment at a number of selected locations.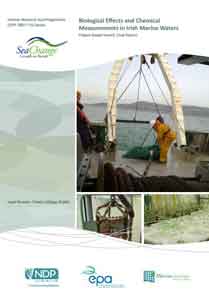 Published: 2014
Pages: 110
Filesize: 5,188 KB
Format: pdf
The detection of anthropogenic dangerous substances in the environment is a ubiquitous phenomenon with the marine environment subject to inputs from a variety of sources including via polluted rivers, direct discharges and atmospheric deposition.
While such contamination tends to be most prevalent closest to the primary sources (e.g. industry, urban, intensive agriculture), remote areas are also subject to pollution, for example by long-range atmospheric transport of airborne substances.
Exposure to such complex mixtures of potentially harmful chemical compounds may bring about undesired biological effects including metabolic disorders, increases in disease prevalence, and adverse effects on population growth, effects on reproduction and on the survival of exposed aquatic organisms.
This project reports the selection, development, validation and testing of relevant biological effects and contaminant measurement tools for substances of concern in Irish waters. Ultimately the key findings of an integrated assessment at a variety of Irish marine sites are evaluated.
https://www.epa.ie/media/epa-2020/publications/research/Research-134[1].jpg