Research 176: SILTFLUX Literature Review
Authors:Damian Lawler, Anna Rymszewicz, Liz Conroy, John O'Sullivan, Michael Bruen, Jonathan Turner and Mary Kelly-Quinn
Summary: This review summarises the key issues that affect the role of fine sediment in fluvial systems, with a focus on northern Europe, the UK and Ireland, which will be of most relevance to the SILTFLUX project.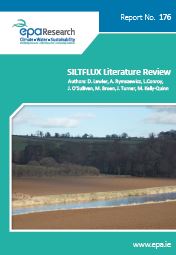 Published: 2016
ISBN: 978-1-84095-645-0
Pages: 112
Filesize: 3,349 KB
Format: pdf
Identifying Pressures
Fine sediment delivery to rivers is increasingly recognised internationally as a substantial water quality and hydro-ecological problem. The SILTFLUX project aimed to improve knowledge of fine sediment delivery as a pollution pressure in Irish rivers. The project has studied sediment flux dynamics with respect to key flow events and their actual and potential ecological impacts in different Irish river systems that are subject to variable land-use pressures. The SILTFLUX Literature Review distils the current knowledge of these effects and of methodologies for reducing their impacts in conditions typical of Ireland.
Informing Policy
The SILTFLUX project will help inform environmental management and policy in the setting of standards for suspended sediment fluxes and concentrations appropriate for the protection of sensitive catchments in Ireland. The SILTFLUX Literature Review synthesises the considerable international debate that has surrounded the basis for establishing such standards, particularly on the issues of (i) whether they should be based on sediment loads, suspended sediment concentrations, deposited sediment or all three, and (ii) how such standards can account for the biological impacts of both transported and deposited sediment. Addressing these issues in a framework that is easily and reliably measurable and which lends itself to monitoring on a national scale remains a challenge.
Developing Solutions
The SILTFLUX project has also identified the benefits of suspended sediment reduction possible from a broad range of measures and land management practices, to support the development of mitigation policies. A review of the published literature and existing measured data was undertaken to establish an initial "state of the art" position. The SILTFLUX Literature Review was international in scope but included key foci on information that was relevant to the conditions and pressures experienced in Irish catchments. Existing sediment datasets from the literature, as well as the projects own data, were compiled in a database that identifies the range of fluxes to be expected in Irish river systems.
https://www.epa.ie/media/epa-2020/publications/research/Thumb-176[1].jpg