Research 177 - Economic Assessment of the Waterborne Outbreak of Cryptosporidium hominis in Galway, 2007
Authors: Dearbháile Morris, Aksana Chyzheuskaya, Diarmuid O'Donovan, Srinivas Raghavendra, Martina Prendergast and Martin Cormican
Summary: Water is a limited and precious resource and is being consumed worldwide at unsustainable levels. It is therefore essential to place an economic value on this precious resource. In March 2007, the largest outbreak of cryptosporidiosis since surveillance began in Ireland occurred, and was associated with contamination of the water supply serving Galway City and surrounding areas.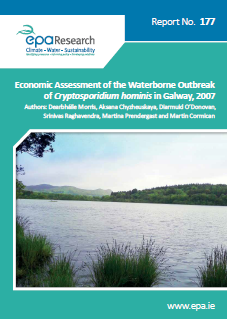 Published: 2016
ISBN: 978-1-84095-647-4
Pages: 36
Filesize: 1,439 KB
Format: pdf
In this report, a twelve month study was undertaken to 1) place a monetary value on the costs and inconveniencesimposed on the public, business and production sectors, local authorities and government agencies, 2) assess thecost benefits arising from remedial actions taken, 3) investigate means of assessing the immediate and long-termcosts associated with loss of trust by communities in the public water supply and more general loss of trust in publicservices 4) identify key knowledge gaps that limit evaluation of the economic impact of the outbreak with a view todevelopment of a template for real-time data collection in future incidents.
Identifying Pressures
This report highlights the significant economic pressures across a range of sectors arising from microbial contamination of a drinking water supply resulting in a major outbreak. The report reveals that compromises in water quality undermine the public's trust in their drinking water supply. This research also identifies significant knowledge gaps particularly in the private sector that limit such economic evaluations.
Informing Policy
The research informs policies on investment in water infrastructure intended to protect public health. The research builds capacity in the area of Environment and Health. The research is relevant in the context of the EU Water Framework Directive, the European Commission's 'A Blueprint to Safeguard Europe's Water Resources' and to the 7th EU Environment Action Programme which aims "to safeguard the Union's citizens from environment-related pressuresand risks to health and wellbeing". The research also informs the following national regulations and EU directives: theEU Water Framework Directive, the Urban Wastewater Directive (1991), the Bathing Water Directive (2008), and the Drinking Water Directive (2014).
Developing Solutions
The overall cost of the outbreak was estimated to amount to €19 million or €120,000 per day of the outbreak. This strongly supports the value of a sustainable economic model to ensure that water infrastructure upgrades anticipate and prevent outbreaks. The research identifies that availability of appropriate data is a limiting factor in completion of such economic assessments and has developed a template for data collection. This study provides valuable evidence that investment in safe drinking water supplies and water treatment enhancement benefits both public health and thewider economy.
https://www.epa.ie/media/epa-2020/publications/research/Research177_image[1].png