Research Report 185: Investigation of the Implications for Ireland of Emerging Standards on Pharmaceuticals in Receiving Waters
Authors: Erin Jo Tiedeken, Eoghan Clifford and Neil J. Rowan
Summary: This report provides an understanding of the state of research on three emerging aquatic pollutants of particular legislative importance, and demonstrates the need to protect our waterways from the severe anthropogenic pressure of chemical pollutants.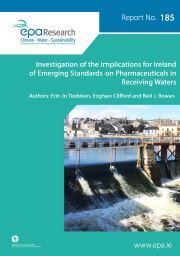 Published: 2016
ISBN: 978-1-84095-663-4
Pages: 48
Filesize: 2,923 KB
Format: pdf
Identifying Pressures
While current laboratory-based analytical chemistry methods are sufficiently sensitive for the detection and quantification of diclofenac, increased sensitivity is required for detecting E2 and EE2. An EU-wide database was created on this topic after screening approximately 4.000 published references over a 20-year period. In order to evaluate the mobility of Pharmaceutical Active Chemicals (PhACs) in an Irish context, existing Irish data were collated and used to map monitoring locations, frequency, and where possible, concentrations of the compounds that exceed proposed environmental quality standards (EQS). The majority of Irish surface waters do not exceed WFD-proposed EQS for diclofenac. However, hot spots occasionally occur for E2 and EE2 which is not surprising as the WFD EQS limits set for these estrogens are below the capabilities of conventional monitoring techniques. This project created a semi-quantitative baseline risk assessment model for helping to identify potentially hot spot WWTPs for greater monitoring and mitigation.
Informing Policy
The "watch list" initially comprising these three pharmaceutical compounds was created by Article 8b of Directive 2013/39/EU, which was then expanded to 10 substances under EU Commission Decision 2015/485. Watch list substances must be monitored for the purpose of supporting future prioritisation exercises. This recent legislation was identified as a potentially significant water management issue for consideration in the second round of Irish River Basin Management Plans (due for publication in 2017). This project provides a baseline study for Ireland on the implications of these three PhACs to future priority substances lists.
Developing Solutions
The findings from this research provide information and recommendations to aid in informed decision making regarding an increasingly important class of emerging pollutants. A review of treatment options effective for removal of diclofenac, E2 and EE2 was undertaken and a toolkit was developed to further aid decision-making. A critical understanding of treatment measures in an Irish context, as provided by this report, is imperative if these compounds are added to future priority substances lists.
https://www.epa.ie/media/epa-2020/publications/research/Thumbnail-185[1].jpg