STRIVE 123 - Management Options for the Collection, Treatment and Disposal of Sludge Derived from Domestic Wastewater Treatment Systems
STRIVE 123 - Michael F. Joyce and Dr Kathryn Carney
Summary: This report looks at options for managing sludge from septic tanks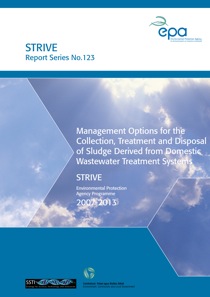 Published: 2014
ISBN: 978-1-84095-536-1
Pages: 50
Filesize: 2,588 KB
Format: xlsm
There are an estimated 497,000 domestic wastewater treatment systems (DWWTS) in Ireland. DWWTS which are not properly maintained and operated may pose a risk to human health and impact negatively on the environment. The periodic removal of sludge from a DWWTS is necessary, to ensure adequate treatment of the wastewater and the reduction of their impact on the environment.
The adoption of new regulations relating to DWWTS maintenance and de-sludging (S.I. 220/2012 and S.I. 223/2012) will result in large annual volumes of sludge being evacuated, the majority of which will be transported to existing wastewater treatment plants (WWTPs) for screening, blending, dewatering treatment and reuse or disposal.
Analysis of existing wastewater infrastructural capacity and operational practices indicates that the current lack of sludge screening facilities at WWTPs commonly results in the discharge of sludge tankers to the inlet of wastewater treatment process, resulting in the shock oading of the WWTP, disruption of the biological process, higher energy costs and a reduction in the quality of final effluent discharged to receiving waters.
This report outlines the current capacity in Ireland for dealing with this sludge and outlines options for delaing with it in future.
You can also view an infographic outlining the findings of the report on Pinterest.
https://www.epa.ie/media/epa-2020/publications/research/STRIVE_123_thumb[1].jpg