Fixing a radon problem
In this section you will find information about the preventive measures that are required when building a home, school or workplace and how to reduce your radon levels if they are above the Reference Level.
If the results from your radon test show that the radon levels in your home, school or workplace are high, there are a number of simple ways that you can reduce these levels.
Watch our video to see how easy it is to reduce radon in your home.
---
---
Radon prevention
If your home or workplace was built after 1st July 1998, the building regulations require that it is fitted with a standby radon sump. This is simple pipe work that extends from under the foundations into the outdoor air. If high radon levels are measured, the standby sump can be activated by adding a fan. It should be noted that a standby sump that has not been activated by adding a fan does not reduce radon levels in your home or workplace.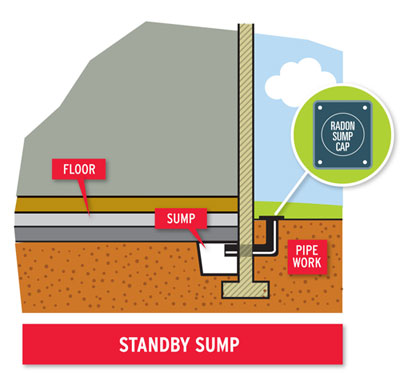 For homes or workplaces built in High Radon Areas the installation of a radon membrane as well as a standby sump is required.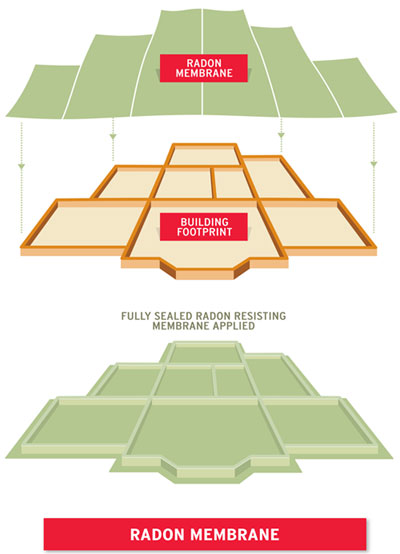 Please see the radon risk map for construction purposes to find out if your home or workplace is located in a High Radon Area.
The installation of these protective measures is not a guarantee that radon levels will be below the relevant Reference Level (300 Bq/m3 for workplaces and 200 Bq/m3 for homes). The EPA therefore recommends that all homes and workplaces are tested for radon.
Reducing high levels
The best way to reduce radon depends on the levels in your home and the building type. Here is a guide to the methods most commonly used:
Improving indoor ventilation
One of the simplest ways to dilute moderate levels of radon is to increase the indoor ventilation by installing wall vents or window trickle vents.  This can reduce radon levels in your home by up to 50%.  It is important that increased ventilation is installed at ground level only as additional ventilation on upper floors may increase the flow of radon from the ground into your home. This work usually costs in the region of a few hundred euro.
Improving under-floor ventilation (for homes with suspended floors)
If your home has a suspended floor you can also reduce the amount of radon entering the building by increasing the sub-floor ventilation. Clearing or replacing existing sub-floor vents or installing additional vents or airbricks will increase the flow of air below the floor and so reduce the amount of radon entering your home. A fan can also be installed if further sub-floor ventilation is needed. This work usually costs in the region of a few hundred euro.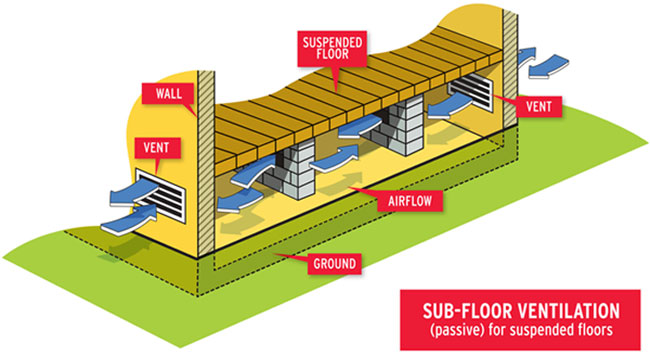 Installing a passive sump
For radon levels up to 400 Bq/m3, a passive sump can reduce radon levels by up to 50%. A passive sump is a sump system that works without the action of a fan. Instead, wind action over the top of the sump-pipe draws radon up through the sump system.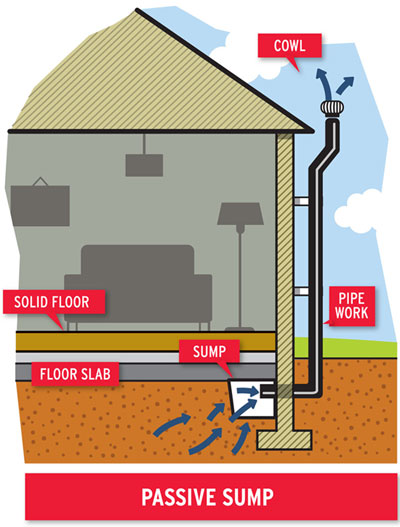 Installing an active radon sump
The most effective and most commonly used way of reducing the flow of radon into your home is by installing an active radon sump. A radon sump is a cavity about the size of a bucket immediately under the floor slab that is linked by pipe work to the outside. The radon rich air coming from the ground is drawn out from under the floor slab by a small electric fan in the pipeline and vented to outside before it is drawn into your home.
An active radon sump can usually be installed in one day and all the work is carried out from outside your home. The work typically costs about €925, but this can range from €400 to €1500, depending on the complexity of the work. The annual running cost of the fan depends on the power of the fan used. The annual running costs are about €100 for a typical 26 Watt fan.
Typically, an active sump can reduce radon levels by about 90% but this may range from 60% to 99%.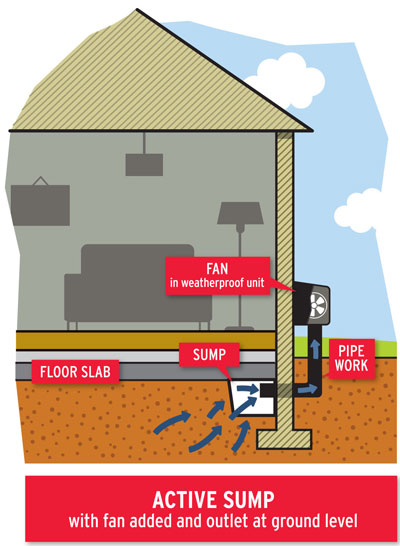 Maintenance of remediation systems
For active sump systems it is important to discuss the choice of fan with the contractor.
Normally remediation is successful at the first attempt. However, sometimes more work is needed to reduce the radon levels to below 200 Bq/m3. It is a good idea to agree with your contractor what steps may be taken if the radon levels remain high.
There is no absolute certainty that radon will be reduced to below 200 Bq/m3, even following a number of remediation attempts. While this rarely happens, it is important to note that any significant reduction in radon levels will reduce your risk of lung cancer even if the levels are not reduced below 200 Bq/m3.
Getting the work done
The EPA provides a list of registered contractors below who will be able to advise you about the most suitable solution for your home.
It is important to discuss the following issues with the contractor, depending on the method of remediation agreed:
Testing your home following remediation work
Choice of fan, fan maintenance and running costs (for active sumps)
Maintenance of a passive sump (it is important to ensure that passive ventilation systems remain clear from debris)
Retesting following significant building work on your home
It is important to have your home re-tested after the work has been completed, to ensure that it has reduced the radon levels in your home.
If you would like to find out more read our  remediation booklet.
The EPA provides a free post-remediation test for homes.
Request your post-remediation test here
Contact us for further information.
Registered Radon Remediation Contractor
This list of registered radon remediation services is published by the Environmental Protection Agency to provide information to members of the public and employers. The EPA does not warrant the services being provided by any registered service. Listed services have met the relevant criteria required to become a registered radon remediation service.
Contact us
FreePhone: 1800 300 600
Email: radon@epa.ie