2021 Winners EPA Researchers Awards
The EPA Researchers Awards 2021 acknowledged and celebrated the work carried out by EPA-funded research teams. Submissions were made under three categories:
Video of the year 2021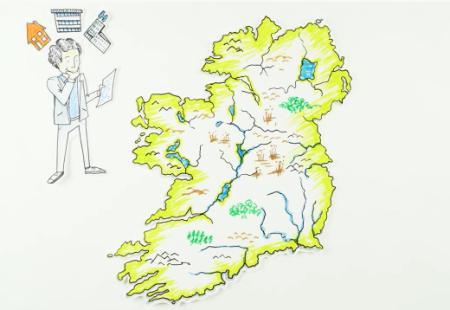 View the winner of the EPA Researchers Awards 2021 video category
Overview of the research project
This project and the associated Environmental Sensitivity Mapping (ESM) webtool, developed by the research team, are a response to the need to enhance consistency and transparency in Strategic Environmental Assessment (SEA) practice. For SEA to effectively inform planning processes, a systematic and accessible approach that provides clear information and ensures comparability between assessments is key. Development pressures on the landscape need to be efficiently examined and the potential for cumulative effects on the environment need to be considered. The output of this research enables the creation of environmental sensitivity maps that capture the accumulated concentration of sensitive environmental features on the landscape, which help to address some of these challenges and direct development to suitable locations.
Visit the Enviromap website for more information on the webtool
Photograph of the year 2021
View the winner of the EPA Researchers Awards 2021 photograph category
Overview of the research project
Antibiotic resistance (AR) is recognised internationally as one of the greatest threats to humanity. We know that AR bacteria and antibiotic residues in livestock, human and industrial waste streams are released to natural water environments, including rivers, lakes and coastal seas. However, it is not known if exposure to AR bacteria in these waters is affecting the heath of people who regularly use them for recreation.
The EPA-funded PIER project's Colonisation Study will investigate whether people who regularly swim, surf or do other in-water activities in Irish rivers, lakes and coastal seas are more likely to pick up and carry AR bacteria in their gut. PIER's Blue Spaces Study will also identify and map the barriers and facilitators to people using natural waters for recreation, creating a "systems map" where we can target future change interventions to maximise our use of natural recreational waters.
Infographic of the year 2021
View the winner of the EPA Researchers Awards 2021 infographic category
Overview of the research project
Atmospheric ammonia poses a significant threat to biodiversity and human health. Concentrations of ammonia in the air downwind of hotspot sources, such as pig and poultry farms, are likely to negatively affect the environment. This research quantified and assessed the impact of ammonia emissions from intensive pig and poultry units in Ireland by monitoring detailed ammonia emissions from 17 animal production houses across four farms. The AmmoniaN2K project aimed to assist the EPA licensing of intensive agriculture installations (pig and poultry farms) in Ireland.