Regulating the use of radiation sources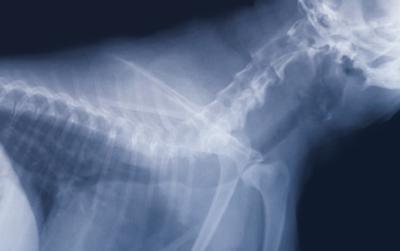 Ionising radiation has a wide range of applications in modern society. These include the diagnosis and treatment of cancer, security scanning at our airports and ports, and ensuring that our bridges and other infrastructure are free from critical defects.  While these applications deliver enormous benefits to society, ionising radiation is intrinsically dangerous and so it is vital that its use is strictly regulated.
The Radiological Protection Act, 1991 and the Ionising Radiation Regulations, 2019 set out the system of regulation covering the use of ionising radiation in Ireland. They designate the EPA as the national regulatory body. 
The EPA's responsibilities cover the protection of workers and members of the public from the harmful effects of ionising radiation. Responsibility for protection of patients during the use of ionising radiation rests with the Health Information and Quality Authority (HIQA).
The system of regulation of the use of ionising radiation comprises of four key elements: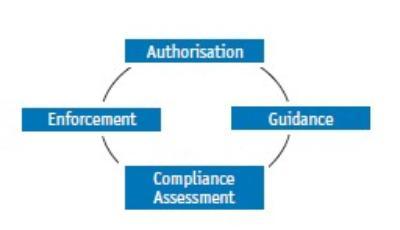 Inspection – Inspection activities are carried out by the EPA to monitor compliance with the relevant regulations and licence conditions
Enforcement – Actions taken by the EPA, including directions and prosecutions, where practices are found not to be in compliance.
Guidance – The provision of guidance and supports to help the regulated community to be compliant is seen as a key part of the EPA's role.
Graded Authorisation
The Ionising Radiation Regulations (IRR19) is an authorisation system with a graded approach comprising both registration and licensing.
In Ireland, in order to legally carry out any practice involving the use of radioactive sources or equipment such as X-ray, which produces ionising radiation, it is necessary to obtain an authorisation in advance from the EPA, unless the practice has been specifically exempted. 
Before authorising a practice, the EPA must assure itself that the practice itself has been justified, that the risks have been adequately assessed and that appropriate control measures are in place.
The Regulations provide for two forms of authorisation: registration and licensing.  The form of authorisation will depend on (a) the magnitude and likelihood of any exposures resulting from the practices, and (b) the impact that regulatory control may have in improving radiological safety.  Practices, which will be subject to registration are listed here.  Practices subject to licensing are listed here.
Inspections
The EPA routinely carries out inspections to ensure that licensees and registrants are in compliance with safety procedures, EPA authorisation conditions and Ionising Radiation Regulations 2019.  Our inspection activities are accredited by the Irish National Accreditation Board to ISO 17020.
Inspections are divided into two parts:
Administrative details – this will include a review of all documentation relating to the EPA registration/licence, personal dosimetry, disposals, acquisitions, quality assurance testing, training, servicing, etc.
Audit of Equipment/Facilities – this will include a visual examination of the authorised items and protective equipment; and an assessment of the radiation protection shielding, storage arrangements, etc. The inspector may also make measurements as appropriate.
In addition to routine inspections, the EPA may carry out inspections where:
A complaint has been made against a registrant/licensee
A radiation incident has been reported
There is reasonable suspicion that a practice is being conducted without the relevant EPA certificate of registration or licence in place
There are concerns over documentation submitted to support an authorisation application or amendment.
Enforcement
The EPA has a number of options for dealing with failure to comply with the regulations and licensing conditions. They include:
Direction: ordering persons to vacate buildings, premises and land and to refrain from performing any acts which could escalate the danger
EPA certificate of registration/licence suspension or withdrawal
Prosecution
Enforcement notice
The chosen option decided upon will depend upon the seriousness of the breach of the regulations or authorisation conditions.
Guidance
One of the roles of the EPA is to ensure that registered persons comply with the relevant Irish and European legislation. We also provide advice and guidance to help licensees understand the often complex regulations governing the use of ionising radiation.
The EPA Inspectors have a wide range of expertise in different areas of radiation protection and are able to provide advice and assistance as required.
For advice specifically on the regulation of ionising radiation, you can contact us directly by e-mail at Radregulatory@epa.ie.
We also have a range of guidance documents available to download. These are designed to help you meet your legal obligations and ensure maximum protection for you and your staff.
They cover a number of key areas, including
The role of Radiation Protection Advisers
The role of Radiological Protection Officers
Intervention planning
Emergency preparedness
How to report an incident or accident
Drafting and maintaining Radiation Safety Manuals / Risk Assessment
Training requirements for transporting radioactive materials by road
All of these documents are available in the publications section of this website.
Any webinars presented by EPA are also available for view and these will be constantly updated as new webinars take place.