Persistent Organic Pollutants (POPs)
Persistent Organic Pollutants (POPs) are a group of organic chemicals that remain stable over long periods of time and are toxic to humans, animals and the environment.
POPs bioaccumulate, meaning they become more concentrated inside the bodies of living things and accumulate in food and human tissue. For some POPs, even low levels have been linked to e.g. increased cancer risk, reproductive disorders, endocrine (hormonal) disruption and increased birth defects.
POPs stay in the environment for a long time and can travel long distances in air and water causing pollution far away from where they were originally used.
Some POPs are made for particular uses - these are known as intentional POPs, for example:
Pesticides that have been used in agriculture including lindane, dieldrin, DDT and endosulfan.
PFAS (per- and polyfluoroalkyl substances) have been used in a range of products including non-stick cookware, waterproof outdoor clothing, fire-fighting foams, food packaging and medical devices.
BFRs (brominated flame retardants) are used to treat electrical equipment (e.g. plastics), textiles and furniture, to reduce the risk of fire spreading.
PCBs (polychlorinated biphenyls) were added in the past to electrical transformers and capacitors, due to their ability to conduct heat. They were used mainly in industry built prior to the mid-1980s with heavy electrical usage. Some PCB-containing electrical equipment may still be in use but will be completely phased out by 2025 under the Stockholm Convention.
Other POPs are released into the environment from burning fossil fuels or waste -these are known as unintentional POPs, for example:
Dioxins and furans are very harmful substances that are created and released into the air when materials such as fossil fuels and waste are burned – even when we burn solid fuels in our homes. Backyard burning of waste is illegal as it can be a significant source of a range of pollutants including dioxins and furans.
People are mainly exposed to POPs through food. POPs which are released into the environment can enter the food chain when they are deposited on soil or through our rivers, lakes and seas. Therefore, it is important to prevent the release of POPs into the environment in order to prevent damage to the environment and protect human health.
Ireland's POPs National Implementation Plan (2018)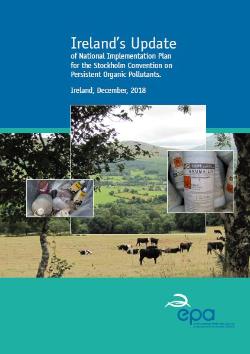 Under the international Stockholm Convention on POPs each participating country must take administrative and legislative actions to prevent the environmental impacts of POPs. The requirements of the Stockholm Convention are enacted into EU law by Regulation (EU) 2019/1021 and Irish law by S.I. No. 146 of 2020. The Republic of Ireland signed up to the Stockholm Convention in 2010 and under Article 7 of the Convention, is required to develop and regularly update a National Implementation Plan on POPs as new POPs are restricted or banned.
The EPA, as the competent authority, reviewed and updated the National Implementation Plan on POPs in 2018, in consultation with a number of public authorities, national stakeholders and the public. It includes an assessment of POPs in Ireland and details an Action Plan of measures to be carried out to support the control of POPs.
As part of the POP's Action Plan, the EPA are investigating the risks posed by certain POPs to human health and the environment in the Irish context including PFAS in fire-fighting foams, POPs in landfill leachate and PCBs in building materials. Further details on these studies are available through the links provided below.
Find out more about POPs
Ireland's National Implementation Plan on POP's
POPs currently restricted or banned under the Stockholm Convention
EPA report on PFAS in fire-fighting foams
EPA report on PFAS and BFR monitoring at fire-training sites
EPA report on PCBs in building materials
EPA report on POPs and other hazardous chemicals in landfill leachate
European Chemicals Agency POPs information
Irish POPs Regulations S.I. No. 146/2020
Dioxins in the Environment Survey based on levels in Cows' Milk
Organisation roles under the Irish POPs Regulations
For any queries relating to POPs, please email pops@epa.ie.