What are PFAS?
PFAS is an abbreviation for per- and poly-fluoroalkylated substances.
They are a very large group of man-made chemicals that have multiple fluorine atoms attached to a carbon chain. Approximately 4,700 PFAS have been identified to date.
PFAS have been used in industrial and consumer products since the 1950s due to their physical and chemical properties. These properties include water and oil resistance, chemical and heat stability, friction reduction and surface tension lowering (also known as surfactant properties - results in increased spreadability of materials).
They can be found in many everyday products – outdoor clothing and equipment, textiles, paints, food packaging, photographic coatings, non-stick coatings on cookware as well as fire-fighting foam.
They can have harmful effects on human and animal health and stay in the environment and in our bodies for long periods of time where they can increase in concentration. They are often referred to as "forever chemicals".
Some PFAS have been linked to an increased risk of cancer, high cholesterol, reproductive disorders, hormonal disruption (also known as endocrine disruption) and weakening of the immune system.
Human and environmental exposure to PFAS can arise from contaminated water and food, PFAS-containing consumer products, household dust and air as well as the reuse of PFAS contaminated sewage sludge as fertiliser resulting in PFAS pollution in soil and crops.
What is being done about PFAS?
1. PFAS restriction
Two PFAS are currently restricted under the international Stockholm Convention on POPs and the EU POPs Regulation.
PFOS (perfluoroctanesulfonic acid) and its derivatives since 2009/2010.
PFOA (perfluorooctanoic acid), its salts and related compounds, as of 4th July 2020. The current list of PFOA and PFOA-related substances is available in the links below. Please note that this list is under review and will be updated when more information becomes available.
Time-limited exemptions exist for some specific uses of PFOA including PFOA in fire-fighting foam, photolithography and in semiconductor manufacturing and in invasive and implantable medical devices, until July 2025. Further details of the allowed exemptions are provided in the table at the end of this page. If availing of an exemption, contact the EPA at pops@epa.ie.
If you have stockpiles containing PFOA or PFOA-related substances on site, with an aggregate volume of >50kg and above threshold concentrations you must notify the EPA annually. The concentrations are:
>0.025 mg/kg for PFOA and its salts; and
>1 mg/kg for any individual PFOA-related compound or a combination of PFOA-related compounds.
The deadline for receipt of reports of stockpiles has been extended to 30 November 2021. Access to the reporting system will be via the EPA's Environmental Data Exchange Network portal. The information requested will include details of:
Stockpile nature/use – for example installed within fire suppression systems (including fire extinguishers), medical device etc., please note – may be a combination of uses;
Concentration of PFOA and/or PFOA-related substance(s) within each stockpile component (the 50kg limit refers to an aggregate weight and so may be made up of "sub-stockpiles");
Location & quantity of stockpile;
Contact details of person(s) making the notification;
How the stockpile is managed and stored; and
Disposal details where sent off site for disposal - the following contractors are licenced by the EPA to handle hazardous waste and may be able to offer physio-chemical treatment of POPs waste (there may also be others):

Indaver Ireland limited
Enva Ireland Limited
Veolia Environmental Services Technical Solutions limited
Rilta Environmental Limited
Further information on reporting can be found in the EPA's factsheet on PFOA in fire-fighting foams and in our frequently asked questions. See our PFOA information leaflets for specific guidance for Suppliers and Users of Foam Fire Extinguishers.
Other PFAS are being evaluated for restriction:
PFAS group

PFAS acronym

PFAS name
Legal basis for restriction
PFHxS
perfluorohexane sulfonic acid
Stockholm Convention
PFHxA
undecafluorohexanoic acid
Stockholm Convention & REACH

C9-C14

PFCAs (perfluorinated carboxylic acids)

PFNA
perfluorononan-1-oic acid
REACH
PFDA
nonadecafluorodecanoic acid
REACH
PFUnDA
henicosafluoroundecanoic acid
REACH
PFDoDA
tricosafluorododecanoic acid
REACH
PFTrDA
pentacosafluorotridecanoic acid
REACH
PFTDA
heptacosafluorotetradecanoic acid
REACH
HFPO-DA
2,3,3,3-tetrafluoro-2-(heptafluoropropoxy)propionic acid its salts and its acyl halides (GenX)
REACH SVHC1 candidate list
PFBS
perfluorobutane sulfonic acid and its salts
REACH SVHC1 candidate list
Note1: ECHA (The European Chemicals Agency) is driving the restriction of several other PFAS by placing them on the REACH (Registration, Evaluation, Authorisation and restriction of Chemicals) candidate list of substances of very high concern (SVHC).
Germany, the Netherlands, Norway, Sweden and Denmark, are proposing a ban on all PFAS, except for essential uses under REACH. It is expected that the proposal will be submit to ECHA by 15 July 2022.
The EU Green Deal Chemicals Strategy for Sustainability has prioritised the regulation of PFAS as a chemical group.
The new EU Drinking Water Directive (EU 2020/2184) includes limits for total PFAS of 0.5 µg/L and the sum of 20 PFAS of most concern of 0.1 µg/L. The new Directive entered into force on 12th January 2021, with EU Member States having a 2-year transitional period to develop national laws, by 12th January 2023.
2. POPs National Implementation Plan
The EPA's Action Plan on POPs within the POPs National Implementation Plan includes several tasks relating to PFAS which are underway including:
Determine the extent of the risks posed by PFAS in Ireland e.g. from PFAS in fire-fighting foam or PFAS in landfill leachate.
Investigate the extent of environmental contamination in Ireland with PFAS.

A Priority and Priority Hazardous Substances Scoping Study carried out in 2017 and 2018 detected PFAS in some rivers, lakes and fish.
Since 2019, the EPA routinely monitors water for PFOA, as well as PFOS, as part of the Water Framework Directive monitoring of rivers and lakes.
In 2020, the EPA monitored groundwater and detected very little PFAS. The More detailed analysis of potentially higher-risk waterbodies for PFAS is underway.

A coordinated approach across the EPA and with external public bodies in monitoring the environment for PFAS.
Awareness raising across the EPA, with other public bodies and stakeholders and with the public about POPs, in particular, newer POPs such as PFAS.
The more detailed analysis of potentially higher-risk waterbodies for PFAS is underway.
3. PFAS in fire-fighting foams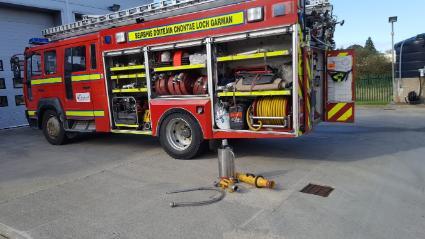 PFAS are commonly used in fire-fighting foams, particularly 'Class B' foams which are used to combat flammable fuel fires.
The EPA carried out a desktop study and survey in 2020 on the use of PFAS foams in Ireland which highlighted the wide-range, and often large volumes of PFAS-containing foams used by industry and fire services. This report includes information on PFAS-free and PFAS-containing fire-fighting foams and is available below. Read some examples of PFAS-free foams.
The EPA also undertook a in 2020 to investigate potential hotspots for PFAS contamination from fire-fighting foams. Water, soil, sediment and vegetation samples were obtained from four fire-training sites. Exceedances of adopted human health, environmental quality and ecological screening criteria were detected, mainly in water samples.
The EPA are continuing to engage with industry and the fire services about the use and disposal of PFAS foams. An EPA guidance booklet and infographic is available for users, suppliers and waste operators. Read more about the PFOA concentration of selected fire-fighting foams.
Further work is underway by the EPA to assess the risks posed by the release and disposal of PFAS-containing foams and to identify additional high-risk sites.
The European Commission DG Environment and ECHA published a report on the use of PFAS and fluorine-free alternatives in fire-fighting foams in 2020.
ECHA submitted a proposal to restrict the use of PFAS in fire-fighting foams in January 2022. The opinion of ECHA's scientific committees is due in 2023. The EU Member States and the European Commission will then make the final decision on the restriction.
4. EPA-funded PFAS research
Several EPA-funded research projects have assessed the risks posed by PFAS to human health and the environment in Ireland. For example:
The ELEVATE study investigated human exposure to PFAS with PFAS being identified in indoor air and dust, drinking water and human milk samples. Levels of PFAS in human milk did not represent a health concern for nursing infants but modelling indicated that adult exposure for PFAS may exceed the provisional EFSA tolerable weekly intake value or TWI. The researchers recommended further studies on dietary exposure to PFAS in Ireland.
The FUEL study investigated the risk posed from PFAS in landfills. Landfill leachate and the surrounding air, soil & groundwater were investigated for PFAS. A potential risk of PFAS contamination from landfills to the surrounding groundwater was identified as well as to waterways and land from disposal of leachate via waste water treatment plants. Further monitoring of landfills was recommended.
Find out more
PFOA restriction under EU POPs Regulation
EU report on the use of PFAS and fluorine-free alternatives in fire-fighting foams
EPA Guidance Booklet & Infographic on PFAS in fire-fighting foams
EEA Emerging chemical risks in Europe - PFAS
ECHA - Perfluoroalkyl chemicals (PFAS)
European Green Deal Chemicals Strategy
EU Drinking Water Directive (EU) 2020/2184
EPA Water Framework Directive Datasets
EPA report on PFAS in fire-fighting foams
EPA report on PFAS and BFR monitoring at fire-training sites
EPA-funded POPs research projects: ELEVATE, FUEL, SAFER, WAFER
Current list of PFOA and PFOA-related substances
Examples of PFOA concentrations in selected foams
Living healthily in a chemical world — European Environment Agency (europa.eu)
Examples of fluorine-free foams
EPA's water Quality Report 2016-2021
Information for Suppliers of Foam Fire Extinguishers – PFOA information leaflet 1
Chemical Information for Users of Foam Fire Extinguishers – PFOA information leaflet 2
For any queries relating to PFAS, please email pops@epa.ie