Waste Tyre Statistics for Ireland
EPA waste data release, 23 Nov. 2022. Latest reference year 2020.
Waste tyres pose a threat to the atmosphere, to land, soil, water, plants and animals if they are not managed properly. Where they are dumped in our environment, they have a significant negative visual impact on our landscape.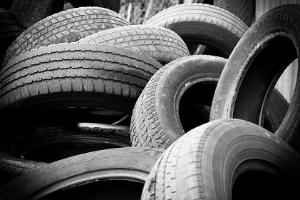 Tyres become waste when worn-out tyres on a vehicle are replaced; and, unless reused, they become waste when the vehicle they are on is transferred to an authorised treatment facility. Our section on end-of-life vehicles provides more information on end-of-life vehicles arising in Ireland, and reuse, recycling and other recovery of this waste.
The EPA data on waste tyres draw on multiple sources including EPA surveys, data from the National Waste Collection Permit Office, data on exports from the National Transfrontier Shipments Office, and information from the tyres producer compliance scheme Circol ELT. It should be noted that these figures exclude the large quantities of historic waste tyres that remain outside the waste management network and the waste tyres that did not enter the waste management network in 2020.
There are no statutory recycling or recovery targets set down in the Tyres Regulations. However, Circol ELT's Ministerial approval obligates the compliance scheme to meet minimum targets for the type of tyres it covers. By the end of 2019, and each subsequent year, it must achieve
A recovery rate of 70% of all tyres collected, and
A recycling rate of 30% of all tyres collected.